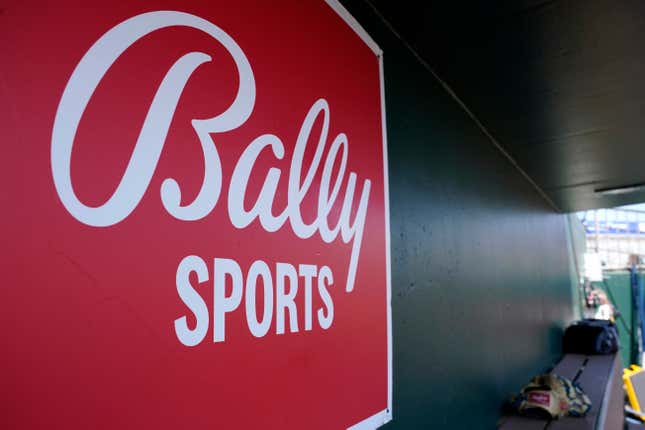 In a few years, baseball TV will look very different. We're getting a glimpse now, thanks to Bally Sports missing a payment to the San Diego Padres, essentially ending their rights deal. MLB is stepping in already, and starting later today MLB is taking over the broadcasts for the Padres. And of course, MLB is finding a way to make another dime off it.
The best ERA+ belongs to who? | Stats that will blow your mind
Padres fans will get their team's games for free through the weekend, but after that, they're going to have to pony up per month or through the end of the season. Which doesn't seem totally fair, as any Pads fan in San Diego would have signed up with some service, be it cable or streaming, that got Bally Sports so they could watch the Padres. MLB also has agreements with various cable companies to provide Padres games in San Diego, like DirecTV or Cox for example.
This is what televised baseball will eventually look like for everyone, as MLB absorbs most team's rights. The hope is that they will eventually get all 14 teams' rights that once belonged to Bally, or really, Sinclair broadcasting. Eventually, MLB will want every team on its MLB TV solely, along with whatever national contracts it has then. Less to share that way. In one way, that'll be great, as it should end blackouts that have been byzantine and unnecessary for a long while for big parts of the country (have a baseball fan in Iowa try and explain how it works there sometime).
Bally has their excuses, which basically involved setting up their own DTC alongside MLB.TV, which obviously was never going to fly. They'll hope a bankruptcy court bails them out, but we're on the road to MLB controlling all its own TV, however long it may be.
Anthony Bass shows his ignorance, again
Anthony Bass is clearly an ignorant asshat, who has no interest in in honestly apologizing for his anti-LGBTQ+ thoughts he shared over the weekend, but the main headline should be how Blue Jays fans have taken his backward ways and used them for good. Which is the most important thing that will come of this.
It would be heartening to see the Jays dump Bass in the nearest dumpster, because he's not helping the team much on the field and it seems most Jays fans would like him to not represent their team. Short of that, at least organizations doing good work for people that Bass doesn't think should exist are getting a boost.
What's going on with U.S. Soccer?
U.S. Soccer seems to be back on its goofiness again. Interim manager Anthony Hudson has left, which means a different interim manager, B.J. Callahan, who was on Hudson's staff, is taking over for the summer Nations League semis and final (hopefully) as well as the B-team's voyage through the Gold Cup after that.
Hudson reportedly has an offer from a club or country in the Middle East, and got the impression he wasn't getting the U.S. job full-time and took what was available. U.S. Soccer has said they aren't going to hire a permanent manager until after the summer, after new sporting director Matt Crocker gets his feet under the desk for a bit. It seems an odd way to go about it, especially since we all know it's basically to get more distance and time between Jesse Marsch getting shitcanned by Leeds and his hiring by the national team. This summer would have been a great time for a new manager to get to know the entire pool of players, seeing as how two different squads will take on the two tournaments.
U.S. Soccer would like us to believe they're waiting for the European season to end and see what kind of other candidates pop up, and maybe they are. That's the cover story at least. Making the hire in August or September will still leave multiple windows for prep time for next summer's Copa America (they announced two friendlies in October yesterday, in fact). Just seems a bit of a ham-handed way to go about it. Which is kind of U.S. Soccer's M.O.
Gael Monfils rallies
Sometimes you wonder why an athlete keeps going when their peak has clearly passed, with all the money they've made and the accomplishments they've dreamed of no longer attainable. Sometimes you get an answer:
Gael Monfils has always been his own dude. Most would tell you when he was younger he was one of the more talented players on tour. He was top 10 in the world for more than a cup of coffee, but the feeling was he was always more interested in putting on a show than pushing through the last threshold to win majors. He loved being on center court everywhere and doing things few humans could do, and he could do anything on the court, but being there was just about enough.
But maybe that's why he's got that connection with his fans, that can push him through a match like this that normally would just disappear into the ether. It's one more moment for Monfils and his fans to cherish, and as he says, one for his daughter. That's probably why you still push through at 36 when you don't have to. You never know when the next thing you can hold onto forever might land.