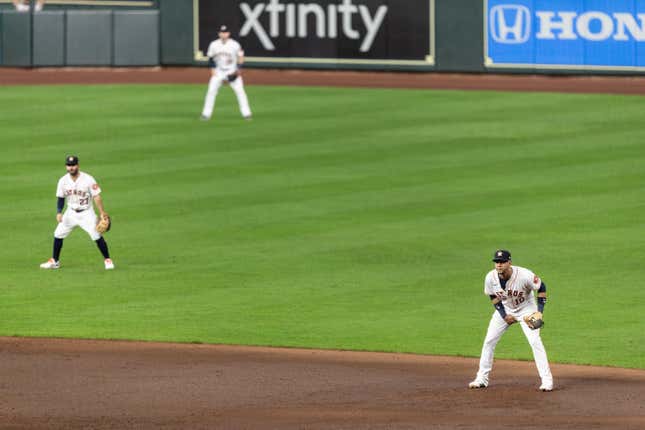 It's starting to feel like 2023 and beyond will see a pretty definitive shift in baseball, with an amount and degree of rules changes that are at least an attempt to change how the game is played instead of pawing at the edges. A pitch clock seems a near certainty. An automated strike zone won't be joining us, but it won't be far behind either. We've already seen the universal DH; think about how silly that sounded just 10 years ago.

Can the Florida Panthers make a comeback? | Agree to Disagree
It also feels like a ban on shifts, or some directive about where fielders can stand and where they can't, is coming. The latest bit of genius, though it may not arrive until 2024, is something of a pie slice behind second base. It'll kind of look like this.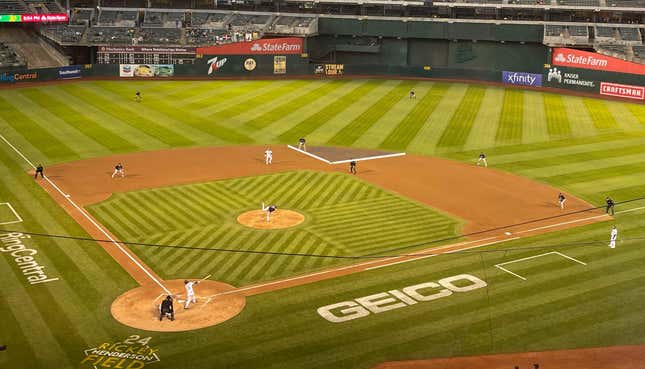 The idea is to give even more weight to the directive about where infielders can stand. As of now, preliminary ideas on keeping two infielders on each side of second base haven't made much difference in the minors, because the shortstop or second baseman can be right behind second. That's not all that far from when three infielders are on one side of second now. Given the range of some of the league's middle infielders, they can still get to those spots to field grounders.
What MLB is really getting at with this is to try and save our notions from our entire lives that a well-hit ball up the middle should be a hit. It's what you were taught in little league. If you send one back up the box, you've timed it perfectly. These days, more often than we ever remember and maybe even more often than not, we see that angle jump off the bat, our initial instinct is single, and then find when the camera shifts to a shortstop or second baseman standing right there to turn it into an easy out. A lot of us have that internal struggle.
With this "pie slice," you can still position a middle infielder behind the bag, he just has to be on the bag, cutting down some angle. The deeper you want to play him the more of the middle of the diamond opens up. At least so is the thinking.
But what it ignores, is that the problem isn't really shifts. There are plenty of open spaces on the infield if hitters want them. But hitters aren't paid to dribble singles through the open spaces, nor do teams think they can string enough of these together. Think about how many singles it takes to score multiple runs in an inning. Then think about doing it against:
Sure, you're saying, that's Shohei Ohtani. But whatever tomato can that teams are pulling out of the 'pen, more likely than not, they have stuff just like this — if only for an inning. But then there's another palooka right behind him. Are you really gonna get five singles in a row off that?
There has never been a rule that infielders have to stand in certain spots. The four of them were put there because teams figured it was the best place to put them. Now we know better. And plenty of things don't look the way we're used to in other sports. I remember in hockey when a guy teeing up a slapshot from one of the circles had a decent chance of scoring, with no screen or traffic whatsoever. You might see that a handful of times in the whole NHL now. Remember when the three-point shot was a gimmick?
The problem is the pitchers, and it has been for years. They throw too hard, and they throw with too much movement. Move the mound, change the ball to have less spin, find a grip substance that doesn't enhance spin, and crack down hard on the stuff that does. Get to the root of it. Because merely moving infielders a few feet isn't going to solve much. What MLB thinks it needs to put on offer for hitters is already there. Except they know that it isn't profitable to take it.
The argle-bargle:
The USWNT moved into the final of the Women's CONCACAF championship, and once again didn't give up a goal to a severely limited opponent in Costa Rica in a 3-0 win. It's hard to complain about a win, but like most of the tournament, the US looked creatively limited against a packed defense. Their first two goals came off a scrambled corner and caused a turnover deep in Costa Rica's half. And these are perfectly acceptable ways to score, and what the US has specialized in for years, but aren't going to be available against the best teams in the world come next summer. The US is far too much playing in front of or around opponents instead of cutting through them. We'll find out more Monday against Canada, who is a real ass team that hasn't given up a goal in the tournament either and probably won't be solved by wingers trying to win a race to the end line.
Of course, the Royals won their first game in Toronto without 10 players thanks to their "enlightened" views on vaccinations. In fact, that sort of attitude is going to keep Andrew Benintendi from any chance of joining the Yankees later in the season, as they might have to travel to Canada in the postseason. Which is exactly what he deserves.
How come every time we hear about some athlete costing his team by not being vaccinated, no one ever asks how they would contain and protect the population from a world pandemic that has killed 6 million? Watching these Mensa members squirm would be worth it.