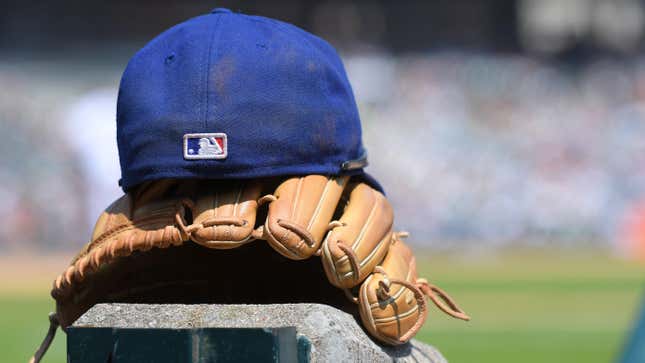 A little more than two months into the MLB season, the first with a shift-ban that keeps two infielders on each side of second base, and the league will probably declare victory. There are more hits, and left-handed batters are seeing more grounders and line-drives are resulting in base hits, which they'll say was the goal through it all. It shouldn't have been, may not have actually been, but the truth is what you sell these days.

The numbers back that up. Through just over two months, the batting average on balls put in play overall is up from .290 to .297. Batting average on grounders is up seven points, and what will have the eyes of the powers that be really magnetized to the statsheets is that batting average on line drives is up 17 points from last year. All the numbers are really just back to where they were five or six years ago, and baseball was probably aiming for more like 10 or 20 years ago, but they'll call it progress.
Lefties are making the difference
Left-handed batters have seen the real boon, as you might think, with their batting average on grinders going up 10 points and on line drives going up 22 points. The problem is that the shift ban hasn't changed the behavior of those hitters. There were always holes for singles if lefty hitters wanted them. They just didn't, because they're trying to pull, lift, and drive the ball. Left-handed hitters are pulling the ball 41.6 percent of the time, up a percentage point from last year and a point and a half from 2021. They're basically hitting the same amount of grounders vs. fly balls and line drives. They're just seeing more of those hit grass instead of leather.
But what MLB was selling is that they wanted more action. Baseball had become too oriented around the three true outcomes — walks, strikeouts, and homers — and for too long of stretches too many times, the seven fielders on the field weren't doing anything. Fans were watching two guys play catch, basically.
On that front, nothing has changed. Strikeouts are slightly up (22.7 percent from 22.4), so are walks (8.7 from 8.2), and so are homers (1.14/g from 1.07). We don't know what exactly has been done to the baseball, but it seems more juiced than it was last year. Exit velocity has taken its biggest jump since it's been measured (89.1 MPH on average from 88.6), so how much that is responsible for the jump in on-base percentage and slugging league-wide, we leave it to the mathematicians.
Baseball hasn't created more action, and it's not a huge shock that walks are up a tick because pitchers don't have the security blanket of knowing that their defense is best positioned to help them out. Essentially, MLB has rewarded the behavior that started the shifts in the first place. Not to compare MLB hitters to dogs, though it's probably closer than we'd all admit, but if you keep giving your dog treats to keep them from barking at any guests you have over, they're going to keep barking at any guest you have over. Hitters, especially left-handed ones, are still going to try to pull homers, because that's how the game is played and won.
The real problem might not be solvable
As Joe Sheehan has been at pains to explain for a while now, the real problem, the root of baseball's "action problem," is that the pitchers are too good. They throw too hard, their breaking stuff snaps too hard and too aggressively for any lineup to string hits together. Fastball velocity is up again (just a tick to 93.7 from 93.6), but pitchers are throwing less of them, as fastball use has dropped two percentage points this season from last. There is no such thing as a hitter's count anymore.
The only way to solve this problem, really, is to move the mound back a foot or two. We've been over this. It would lessen velocity, and give hitters more of a chance to clock breaking pitches. The problem is how to implement this.
MLB kind of pawed at doing so last year, or at least testing it, by moving the mound back in the independent Atlantic League for half a season. But that was no way to see the results. Pitchers spent the first half with the normal distance, and had all sorts of problems with the immediate gear change. And there wasn't a lot of change in the results–walks were down a bit but scoring didn't change and strikeouts actually went up.
But a half-season in independent ball isn't going to tell you much, and even less that's relevant to MLB players. But how do you do that? Do you test it out in the minors for a full season? What MLB team is going to want their developing pitchers pitching from a different distance than the one they might at the MLB level? Even with a full offseason and spring training to prepare, teams would be terrified of injury for pitchers that haven't even gotten to The Show yet.
Do you just install it MLB and MILB-wide without experimentation? That'll never get past the union and even if the rules committee can unilaterally install changes, that one seems like something they wouldn't have the stones to force on the league.
Maybe a pre-tacked baseball can keep pitchers from spinning pitches as much and flattening out some break, but finding that solution has been beyond MLB for a while now. Changing the baseball in any other way has only ever affected hitters. You can't make it heavier to be less able to throw hard without destroying elbows and shoulders and cratering offense along with it.
Maybe this is just how baseball is now, and the stupid pie-slice rule won't help either. It always felt like MLB went to these rules simply for aesthetics. A lot of fans and execs didn't like the way the shift looked. They didn't like that contact off the bat that we'd been raised to signal hit in our heads were now just grounders to the shortstop behind second base. But fans would have eventually adjusted to the new look. Hitters would have been more likely to eventually evolve to find more holes. But baseball always seems to be clawing to get back to what it was instead of where it's going.
---
Follow Sam on Twitter @Felsgate.