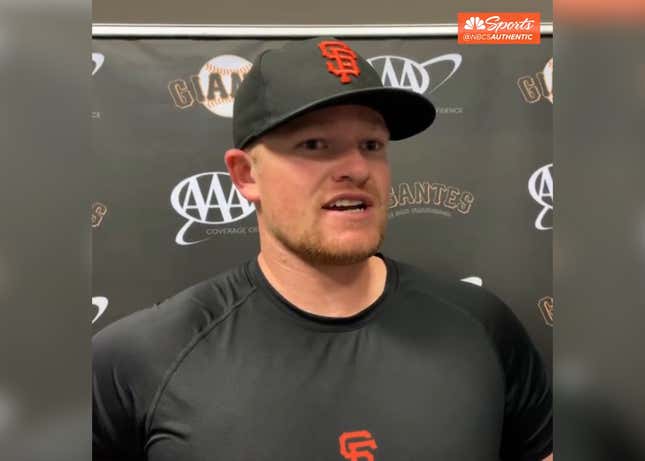 Don't drink the water in Mexico. It's sound advice, but the San Franciso Giants must have missed the memo. While playing a series against the San Diego Padres in Mexico City, pitcher Logan Webb estimated that 75 percent of the clubhouse had the shits.
Dodgers World Series guarantee was trash! | Trash Talkin' Tuesday
"Hopefully the shits will go away," Webb told NBC Sports Bay Area.
"Yeah, the Mexico trip was pretty rough on us, I'm not necessarily talking about just baseball, you know," added catcher Joey Bart.
San Fran managed to score 15 runs — while having the runs — in both games, though the Giants lost 16-11 and 6-4.
Tyler Rogers took both Ls, allowing four hits, and four runs, over a combined inning. His ERA rose from 0.63 to a still respectable 2.93.
At least Webb and the Giants rebounded by taking two of three from the defending champion Astros.
How other outlets approached the story
What do you do when you can't say shit? As SF Gate's sports editor Dennis Young pointed out, in reporting the news, most sites had to censor the quote or get creative.
MLB.com altered the quote with brackets, replacing the shits with diarrhea. The hometown papers — The Mercury News and San Francisco Chronicle — also abstained from vulgarity. The former replaced "the shits" with diarrhea and the runs, while the latter went with "extreme intestinal discomfort" and "stomach issues."

The Athletic had a field day, throwing in bathroom jokes/euphemisms/double-entendres galore: "Despite the early rumbles," "it was the Giants who sat the throne," "The two starting pitchers did the Giants a solid," "Webb found a way to wipe the slate clean," "Alex Bregman flushed the shutout bid," and "But the Giants were able to drop a deuce to break up a scoreless game" amongst others.
The New York Post used the headline "Giants trip to Mexico City was a literal 's–t' show," while the SEO version is much tamer (saying the team returned home with diarrhea.)
What they all missed was a grand opportunity to quote classic Dave Chappelle by using the terms "mud butt" or "hot butt mud."