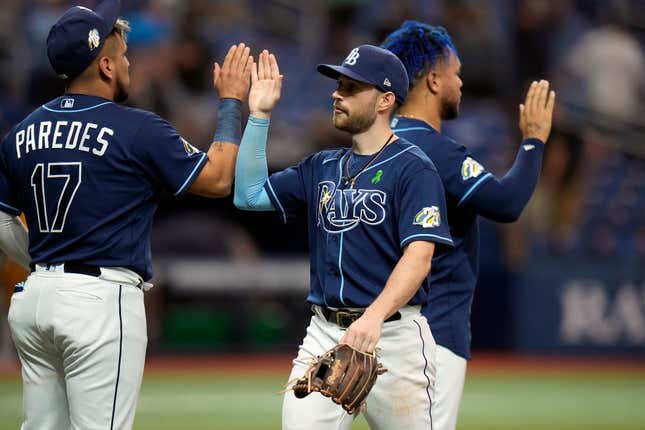 The Tampa Bay Rays are off to one of the best starts to an MLB season in recent memory. A 30th win through 40 games gives the club the best record through that mark since the 1984 Detroit Tigers, who went 35-5 en route to a 104-win season and a World Series title.
Dodgers World Series guarantee was trash! | Trash Talkin' Tuesday
This Tampa organization is often lauded — deservedly so — for putting together contenders no matter who they trade away, who gets injured, or how low their payroll is. Getting caught up in the narrative that the Rays are able to put together a winning team made up of a bunch of replacement-level players is doing a bit of a disservice to the staples in their lineup that have been consistently great — players like second baseman Brandon Lowe.
Lowe is probably the best player that never gets brought up when discussing the best in the game. Half of the reason is probably because he's on the Rays, and the other half is that he's only played at least 100 games in a season once. His inability to stay on the field is the biggest reason he's only made one all-star game despite having a career OPS+ of 128.
In 2021 he had one of the best power-hitting seasons from a second baseman ever — 39 home runs, tied for the sixth most all-time. You might not remember this because it was overshadowed by Marcus Semien — then with the Toronto Blue Jays — having the single most home runs ever by a second baseman with 45 that same year.

Lowe's success mired by injuries, anonymity outside of Tampa
In 2019, his lone All-Star season, he had 16 home runs on July 2, the last day he played in the first half of the season before getting injured (He was named to the All-Star team the next day). He was tied for fifth in home runs among second basemen at the time. He would return for a handful of games in September, adding one more to his total for an impressive 17 home runs in 82 games.

He surely would've been a selection in 2020 had it not been a shortened season in which there was no all-star game. Lowe hit an absurd 14 home runs in 56 games (out of 60). At those rates, over a whole season, he would've hit about 38 home runs in 151 games, nearly matching his total in 2021. I know that's assuming he stays healthy for the entire season which isn't a given, but the fact is whenever he's on the field he's been incredible.

Even this year when he hasn't gotten off to the best start in terms of making contact with a .193 batting average, he still has seven home runs. The 5-foot-10, 185-pound Lowe is 95th percentile in barrel rate, 87th percentile in hard-hit rate, and 79th percentile in average excite velocity. His average exit velocity is — are you ready to be shocked? — the most among second basemen. It's also the exact same as 235-pound Garrett Cooper and 255-pound Salvador Perez.

At this point, it's probably starting to sound like I'm trying to get Brandon Lowe to go to the prom with me, but the point is that there are plenty of good players on the Rays who don't get enough credit because they're seen as part of some indestructible Rays' hive mind. Someone got injured? Don't worry. A minor league journeyman you've never heard of shall rise up to take his place and be even better. Cut off one limb and two more shall take its place. Hail Hydra! Stop us if you can, Mr. Stark!

The organization is clearly doing a lot of things right, but the players are the ones who actually have to go out there and win games. The players aren't bumbling ass-backward into 30 wins in 40 games Three Stooges style. Some of them are actually pretty good.