If you've been feeling like a kid trying to sleep on Christmas Eve, the wait for Biogenesis suspensions is almost over: MLB has informed the players' union whom it intends to suspend and for how long. And if reports are to be believed, everyone plans to take a deal—except Alex Rodriguez.
As first reported by the Daily News, Major League Baseball officials met with union leaders in Manhattan yesterday to formally notify them of the forthcoming suspensions. Just how many players will be disciplined is still unknown—the Daily News counts eight, Yahoo "upward of a dozen."
Yahoo reports that the "vast majority" of the implicated group, which includes Nelson Cruz, Jhonny Peralta, and Everth Cabrera, do not plan on appealing their bans. In exchange they're expected to receive suspensions of 50 games (or a little more—say, the rest of the 2013 season), which is allowable without a failed test under the "non-analytical positives" section of MLB's drug policy.
The Associated Press's sources say both MLB and the union are trying to reach as many agreements as possible to head off embarrassing, and potentially CBA-shattering grievance hearings. The drug policy indicates that suspensions become effective on the third business day after punishments are handed down, so that makes Friday the most likely day for a public announcement.
But by all accounts, there's one player who has no intention of making a deal. Alex Rodriguez's lawyer said Monday he plans to fight any suspension, and it could get ugly. Because MLB is going after Rodriguez for interfering with its investigation as well as for PED use, it is expected to punish him not under the drug policy, but under a catch-all "best interests of baseball" clause in the CBA. If so, Rodriguez would remain suspended while an appeal is heard by baseball's independent arbiter. Beyond that, his recourse could be to a federal court, or if the union decides to go to bat for Rodriguez, it could force the re-opening of negotiations on the CBA itself. The remaining $100 million or so Rodriguez's contract isn't the only thing at stake; the long labor peace that baseball is so proud of could be in danger as well.
G/O Media may get a commission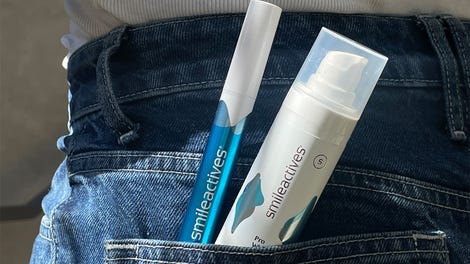 58% off
Whitening Powerhouse Pen & Gel Duo
Now. When can we open our presents?