Getting into the MLS playoffs this year will be about as difficult as securing admission to the dogshit community college down the road from you. That's because the wise men who run the MLS have decided to let two more crap teams into a playoff system that not only confuses foreign players accustomed to a system of promotion and relegation but also ticks off the league's own fans.
In 2010, the MLS let eight of its 16 teams into the playoffs. (MLS is expanding to 18 teams in 2011, and hopes to add two more in 2012.) With only home-and-away legs determining who advances, the law of averages goes out the window here, and a seventh-seeded team on a hot streak (Colorado Rapids) can win the championship. We all love underdogs, but MLS's format essentially rewards them for mediocre performance over the year. So why not make the regular season count even less?
"While there will be some who say that expanding the playoff field dilutes the regular season, we believe that in a certain way, it actually enhances it," said Nelson Rodriguez, MLS executive vice president of competition and game operations.
What certain way is that, exactly?
"It will mean that the battle and the race for the playoffs will have added intensity and last longer through the regular season. And that, on balance, should be a good thing for the play on the field, and for the fans in the stands and at home."
G/O Media may get a commission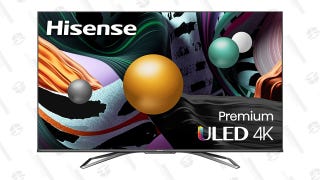 Save $350
Hisense ULED 65" Android 4K HDR Smart TV
Rubbish. With 56 percent of the teams qualifying for the playoffs, you're not only diluting the regular season, you're undermining the playoffs, too.