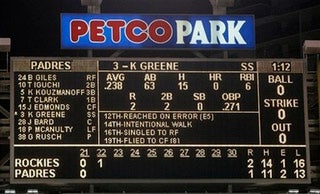 As a weary nation slept peacefully, the Rockies' Kip Wells struck out Padres' pitcher Glendon Rusch to end the longest game in either team's history; a 22-inning, 2-1 win for Colorado at Petco Park. It all ended at 1:21 a.m. PST — 4:21 on the east coast — 6 hours, 16 minutes after it had begun. By the time it had ended, the seventh-inning stretch seemed miles and years away. In fact, there had also been a 14th-inning stretch and a 21st-inning stretch. Since no one was amused by the prospect of a 28th-inning stretch, or watching Rockies' players shave in the dugout to comply with the team's ban on facial hair, all were relieved when the Padres made two throwing errors and Troy Tulowitzki then doubled to drive in Willy Taveraz in the top of the 22nd. Also the outfield grass had grown to ankle level. My only regret is that ESPN wasn't televising it.
It was the ninth game in major league history to go 22 or more innings; the last one being Minnesota's 5-4 win over Cleveland in 22 innings on Aug. 31, 1993. Thursday's game had been a scoreless tie for 14 innings, with starters Jeff Francis and Jake Peavy going seven and eight innings, respectively. Here's the box score. Taveras had 10 at-bats for the Rockies, and scored both of their runs. A few minutes after it was over, a disgruntled fan checked in on the Union-Tribune's comments page: "This game should have been over by nine innings. What the heck is Glenn Hoffman thinking waving in MacAnulty for a triple with no outs...Like a true Padre fan, I watched the whole game. Can I get 3.5 hours of my life back.." — By 619cali on 04/18/2008 at 2:00 a.m.
• Stupid Angelos? There were actually four extra-inning games on Thursday totaling 56 innings ... 10 of them styled by the Orioles and White Sox. Adam Jones singled in the winning run for Baltimore, which is a half-game behind first-place Boston in the East. The impressive part was that the Orioles scored two in the ninth off of Bobby Jenks — who was 7-for-7 in save opportunities — to tie it.
• Coste Plus. Brett Myers went seven innings for the win and Chris Coste had four hits as the Phillies beat the Astros 10-2. Meanwhile, Jimmy Rollins had an MRI on his ankle and could be ready to go by this weekend. Grow hoof grow!
• Tigers Revert To Form. Ryan Garko and Travis Hafner hit two-run homers and Jason Michaels drove in three runs to help the Indians snap the Tigers; three-game win streak, 11-1. Detroit is 5-11.
• That 90's Show. John Smoltz pitched five shutout innings and struck out 10, and Chipper Jones went 4-for-4 with two homers and three RBI to lead the Braves over your first-place Marlins 8-0.