Twenty-one more women spoke on Wednesday at day two of Larry Nassar's sentencing hearing. The former U.S.A. gymnastics and Michigan State University doctor has pled guilty to decades of sexual abuse on women and young girls in his care, and the court has now heard 50 total victim-impact statements over the first two days of a process that's scheduled to go until the end of the week. Nassar, who's already been imprisoned on child pornography charges, is expected to be sentenced on Friday in Ingham County, Mich. on 10 counts of first-degree criminal sexual conduct. He'll be sentenced on Jan. 31 for three additional counts in Eaton County.
The first speaker of the day was Gina Nichols, mother of current University of Oklahoma gymnast Maggie Nichols. Just last week, Maggie went public about the abuse Nassar inflicted on her when she was 15. Maggie was previously identified as "Athlete A" in legal documents related to Nassar, but in a letter made public last week and read aloud by her mother today in court, she described her experience and why she wanted her name attached to it.
"I want everyone to know that he did not do this to Athlete A," Gina Nichols read. "He did it to Maggie Nichols."
Kerry Perry, the CEO of USA Gymnastics, was in the courtroom as Nichols spoke. At one point, Gina Nichols turned to her and said, "Shame on MSU, USAG, and the USOC."
Michigan State University president Lou Anna Simon entered the courtroom later, after the lunch break. She had been watching a stream of the hearing and spoke briefly to the media about the crimes of her former employee. "It's a challenge of trust," Simon said to media during a break in the proceedings. "In the case of medical procedures, those are ones that, if you're president, there's a lot of space between you and what happens in a clinic."
G/O Media may get a commission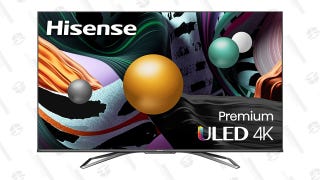 Save $350
Hisense ULED 65" Android 4K HDR Smart TV
When a reporter brought up the fact that many of Nassar's victims had criticized Michigan State for enabling their abuser, Simon said that this was not the place for that conversation. "This is their stories and their lived experiences with their words," she said, "and I'm not going to challenge those words because it's important for them to say their words today in their own way."
Tiffany Thomas-Lopez, a former softball player at Michigan State, spoke immediately after Gina Nichols. She says that she told three trainers about Nassar when she was abused in the early 2000s, and sued both Nassar and Michigan State in 2016. She talked about the way those around Nassar protected him by ignoring and covering up what he did, and said that Nassar's abuse kept her from getting her degree. "You and your actions have walked with me every step of the way since I've left Michigan State University," Thomas-Lopez said. "We seek justice, we deserve justice, and we will have it."
One of the most intense moments of the two days came when Gwen Anderson, who initially wanted to speak anonymously but later changed her mind, gave her statement.
"I still remember the feeling of his hand. I still remember flinching from his touch and I still remember him saying, 'It's OK, I know you're not used to being touched that way but you'll feel better,'" Anderson said.
Anderson was accompanied by her former coach, Thomas Brennan, who yelled at Nassar, "Look at her!" when Nassar was looking down and taking notes. Brennan said that he felt guilt that is "hard to fathom" after sending his athletes to Nassar throughout his career.
It's difficult to describe what it's like to hear 50 women, one after another, describe the same horrific and life-changing experiences, and still know that they don't even represent half of this one man's victims. This sentencing is by no means a triumph—its justice is much too late—but at the same time, everyone who has followed or been involved in this case now has an opportunity to hear women who were previously silenced and ignored. It's not enough, but it's something.
Amanda Thomashow, whose sister was also a victim and spoke yesterday, gave her own statement today. She reported Nassar's abuse in 2014, but Michigan State's Title IX investigation cleared him and allowed him to return to work within a few months. For her and so many others, Nassar's sentencing does little or nothing to soothe the trauma he caused, but Thomashow's statement did emphasize some of the newfound strength that this group of women had found.
"You were also building an army of survivors," Thomashow said to Nassar. "You might have broken us, but from this rubble we will rise as a family of empowered female warriors who will never let you or any man drunk off power get away with such evil again."
Since yesterday, three more women who filed police reports about Nassar have chosen to take the opportunity to give victim-impact statements. That means that, before Nassar is sentenced, 101 women will have spoken in court about his crimes.