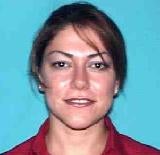 Because she adds to what already could be the most historic weekend ever for women in auto racing, let's take a second to appreciate the "NASCAR stripper."
Fatemeh Angela Harkness (pictured, photo courtesy of the U.S. Marshal's Office) has been sentenced to three-and-a-half years in a federal prison for embezzling over $1 million to start her own NASCAR team, creatively named Angela's Motorsports. In the most successful female sports ownership venture since Rachel Phelps bought the Cleveland Indians, Harkness and some guy, starting in 2002, entered cars in the Busch Grand National Series.
The fact that she used to be a stripper evidently has nothing to do with the story, but like this talented writer points out ... once you earn that title, it's not going away. Just as George W. Bush will never be known primarily as "Former Rangers owner George W. Bush," this woman will never be known as anything other than a stripper. If she found a cure for Leukemia, the headlines would read "Ex-Stripper Cures Leukemia." Poor girl.
She ran from the law for a while, fleeing to Mexico and then to the United Arab Emirates ... and now she's home, and she's going away. It's a shame it had to come to that. If you're an attractive woman in Texas, and you enjoy NASCAR and showing people your jugs, there's no reason for you to ever be poor.
NASCAR Stripper Gets Tasseled With 40-Month Prison Sentence [BC Sports]