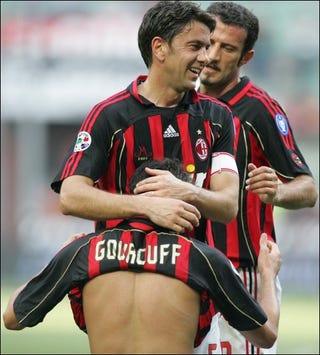 It's been kind of a slow day (other than the hockey, which has been awesome ... so I'm told), so why not end things with a picture of a French guy who looks like he's about to go down on his AC Milan teammate. The official caption:
AC Milan's French midfielder Yoann Gourcuff (C DOWN) jubilates with captain defender Alessandro Costacurta after scoring a goal against Udinese, during their Italian serie A football match at Udine's Friuli stadium, 19 May 2007. AFP PHOTO/ANDREAS SOLAROSOLARO (Photo credit should read ANDREAS SOLARO/AFP/Getty Images)
Jubilating? Is that what the kids are calling it these days? Well, you just jubilate the hell out of that thing, Mr. Gourcuff. And don't be afraid to lift your shirt up and get those nipples involved.
Photo [Yahoo! Sports]