Mount St. Mary's earned the NEC auto-bid last night by beating Robert Morris 88-71 last night in the conference championship game. The Mountaineers entered the tournament with a sub-.500 record, making their trip to the dance a bit of a shock. But here's the thing: they shouldn't have even been in the NEC title game.
Jokic? Embiid? The NBA MVP is obvious... right? | Keep it a Buck(et)
That's because they won their quarterfinal against St. Francis a week ago by using six men on the court. The video above is a bit wonky due to a poor-quality web feed, but you clearly see the six Mountaineers in play during St. Francis's attempt to inbound the ball while up three with less than a minute remaining. The Mount St. Mary's field goal cut the lead to one, setting up this:
At least they made that shot with the legal number of players. But a man advantage plays no bigger part in a basketball game than during an inbound pass, so it's kind of astonishing it's taken this long for anybody to notice—least of all, St. Francis.
The NEC finally acknowledged the mistake yesterday, though the conference was vague in defining what they'd do about it. Obviously nobody expects the NEC to retroactively award St. Francis the win, though that's exactly what they deserve. Blame the officials involved and, in a way, Robert Morris for losing to what throughout the regular season was a clearly inferior team.
Things get a bit hairier for the NCAA selection committee. By all measures, Mount St. Mary's will be slotted into a first-round (aka play-in) game; lest you think a trip to Dayton's P.I.G. party a punishment, realize the play-ins are actual, winnable games that include a full NCAA monetary win share. For a small athletic program, it's a much better financial opportunity than opening the NCAAs with a stomping by a one-seed; will the NCAA selection committee heed "cheaters never prosper"?
G/O Media may get a commission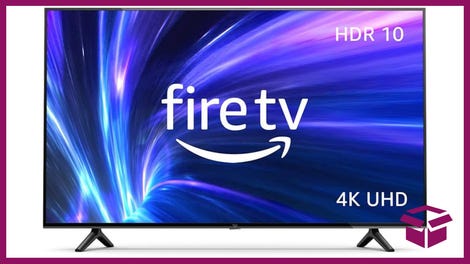 42% Off
Amazon Fire TV 50" 4K Smart TV
h/t to Smith