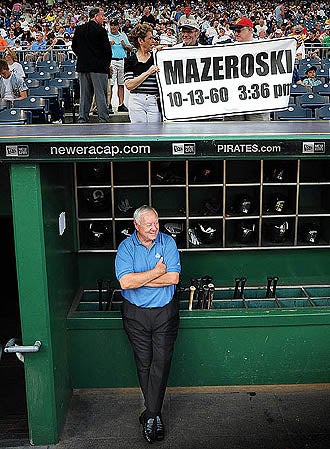 Wouldn't it be ironic — in a fun, cosmic sort of way — if the turning point for the Pittsburgh Pirates' franchise came on Tuesday night? It was the first time since 1960 that the New York Yankees had played in Pittsburgh, when, as you surely recall, Bill Mazeroski won Game 7 of the World Series with one of the most dramatic walkoff homers in baseball history. The Pirates celebrated that day 48 years ago with another win on Tuesday; 12-5, featuring 19 hits and homers by Jose Bautista and Ryan Doumit.
The best part: The Pirates enjoyed their second sellout of the season, as 38,867 crammed PNC Park; with Maz, who threw out the first pitch, in attendance. The AP story also said that there were "several Pittsburgh celebrities" in the crowd, although I can't imagine who they would be. Fun facts: Mazeroski, who hit the only Game 7 walkoff homer in World Series history, was an eight-time Gold Glove winner at second base who only had a .260 batting average.
Amazingly, the Pirates' big concern prior to the game was who the large crowd would be rooting for. (It was decidedly Pirates). "Outstanding!" center fielder Nate McLouth said. "And did you see that nobody left? It was 12-3, and they were still there for us."
So, Let's Go Bucs. Never let it be said that MLB Closer ignores the black-and-gold.
• Pull Up Your Sox. Jason Varitek, who had an 0-for-24 streak going before Monday (as your tear-stained scorecards sadly indicate), singled to drive in the go-ahead run in the eighth as the Red Sox beatthe Diamondbacks 5-4.
• It's Andy McPahil Day In Chicago (Hey, Who Threw That Brick?!). Brian Roberts had three hits to reach 1,000 for his career, and closer George Sherrill — whose name sounds like he stepped out of a Weintraub post — struck out the side after the Cubs had loaded the bases in the bottom of the ninth. It all added up to a 7-5 win for the Orioles over the Cubs, ending Chicago's 14-game home winning streak.
• Mr. Met Cannot Conceal His Murderous Rage. The Mariners may have the worst record in baseball (13-25), but they're 7-1 all-time vs. the Mets, including Tuesday's 11-0 win. Raul Ibanez homered and drove in three runs, and knuckleballer R.A. Dickey earned the win. Plus, New York manager Jerry Manuel and the Mets' Carlos Beltran were both ejected.
• Wizard Cat Defensive Player Of The Day. Prince Fielder, Milwaukee Brewers. So much entertainment in this clip, it's hard to know where to start. Fielder snags a liner and then lunges to tag the Braves' Yunel Escobar, who is caught off first for a double play. Bonus points here because Fielder is, like, 400 pounds. Then Escobar throws his helmet in disgust and is tossed by the first-base umpire. Best part: Bobby Cox waddles out of the dugout to protest, but is only able to go three steps before Escobar is ejected. So Cox turns on his heel and returns to dugout. Thoroughly entertaning. Wizard Cat gives this play: Five wands.