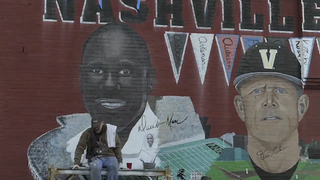 Oof. You try to do the right thing and give the new football coach some shine and then, well, this happens.
The man you see above—the actual person, not the Amos-or-Andy-looking face that belongs to new Vanderbilt football coach Derek Mason—is Michael Cooper, a Nashville artist who was tasked with painting over the face of the departed James Franklin on a fan-commissioned campus mural. And ... yeah.
"We realized it was reminiscent of the minstrelsy era in which black people's skin was darkened and their lips were made whiter in order to exaggerate their race in order to put them in a sharp contrast with the white race," said Akailah Harris, president of the Vanderbilt chapter of the NAACP.

"In the mural, his skin is black, not brown, and his lips are white. It doesn't look like him."
It was only after the NAACP started a petition to redo the painting that Cooper finally responded. The artist blames it on the picture he was given, which is a perfectly good explanation, but still—I wouldn't want to be that guy right now.