BLOOMINGTON, Ind. — Iris Clawson, who turns 85 this year, loves at least three things in life: puzzles, westerns, and the National Basketball Association. "Every night I turn on the TV to see if there are any games," she says, and during the regular season she watches five or six a week.

Iris and I live on the same street in Bloomington, Indiana; another thing she loves is children, including my two-year-old son, and whenever we walk by her house she helps him pick a flower from her garden. One day this spring, though, Iris startled me by asking if I'd caught last night's Warriors-Rockets game. Indiana has plenty of elderly basketball fans, though they tend to revere Bobby Knight more than Bobby Portis. But Iris seemed different, and once the offseason calmed down I dropped by to ask what she thought of the league's latest moves—and to find out how she became an NBA fanatic in the first place.
LeBron joining the Lakers? Not a surprise. "He has a mansion out there," she points out, "so that's probably why he wanted to go." Still, she didn't expect Lance Stephenson to follow. "How will they get along?" she asks. "I guess he'll have more chances to blow in LeBron's ear."
DeMarcus Cousins joining the Warriors? Not a big deal. "They're in their heyday," she says, "but they'll get older, and they'll fall behind. Nothing lasts forever."
Technically, Iris cheers for the Pacers. (She still prefers Frank Vogel over Nate McMillan, and Rick Carlisle over either.) But her favorite team to watch is Golden State. "I can't figure out how Steph can be so small and so good," says Iris, who, stooped over her cane, is barely over five feet herself. She adores his crazy shot-making, but thinks Klay Thompson and his quick release might be even better. "The ball hardly touches his fingers and it's headed in the other direction," she says.
G/O Media may get a commission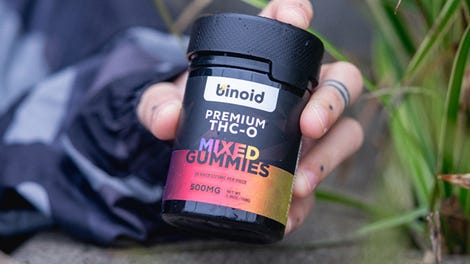 25% Off + Free Shipping
Binoid THC-O Gummies
Iris also admires KD, and understands why he left the Thunder. "Durant wasn't getting the ball enough with Westhead, Westpaul ...Westbrook. I had every 'West-' but the right one. That's old age.
"But I think that's why he left."
She finds fears about the Warriors ruining basketball to be absurd. Even if they do grab a third straight title, the NBA is about more than just who wins the championship. How will Blake Griffin and Jimmy Butler adjust in their second seasons with new teams, she wonders. Another question Iris has been mulling this offseason: "How come the Sacramento Kings can't do anything right?"
---
Iris was born in 1933, in a tiny town called Freedom, Indiana. There were as many kids in her family—seven—as there were in her graduating class. That may sound like a Hoosiers-style setup, but Iris loathes the Hoosiers-style game. "College basketball is too slow," she says. What she likes about the NBA, and especially the Warriors, is the pace. She roots for ball movement, for rebounds above the rim, for scoring of all kinds. "I like to see the action."

She got into hoops in high school, when her older sister Lois convinced her to attend the Freedom High School's home games. Their father followed baseball, and on summer nights he'd lie next to the radio and listen to staticky Cardinals games until he fell asleep. When it came to basketball, though, the girls were on their own. On Friday nights they walked a mile to the high school gym, though the Aces rarely won. "It was a chance to get out and go someplace," Iris says.
After she graduated, in 1952, Iris got a job at RCA's enormous television factory in Bloomington, 20 miles away. Eventually she moved to Bloomington and a trailer a couple blocks from the factory. She bought a small television—she can't recall if it was 10 inches or 12, but she knows it was an RCA—and put it on top of her fridge. Iris can still remember watching Jerry West and the Lakers on that TV, in a Finals game that tipped sometime after 10 p.m. "I kept saying, 'I need to go to bed, but I've got to watch this game!'"
The next morning, she groggily clocked in at the factory. The NBA wasn't a dominant national sport in the 1960s, and her coworkers seemed confused. What on earth had Iris been up to? "Watching the ball game," she replied.
Iris liked Jerry West for the same reason she likes Curry and Thompson: graceful scoring. Another favorite was Julius Erving. Iris worked at RCA for a long time—"41 years and eight months," she says—soldering and crimping and testing TVs. While she never married, that job allowed her to buy the house we were sitting in; it let her help out the single moms she worked with; it let her do nice things for her siblings and their kids. Once or twice a year, when the grocery store ran a promotion on Pacers tickets, Iris would take some Clawsons to the State Fair Coliseum. The Pacers still played in the ABA, and she remembers cheering so loudly for Erving that her family got a bit embarrassed. "I loved the finger rolls," she says.
There were other favorites: Larry Bird, Reggie Miller, Tim Duncan, the rewards for decades of her mostly solitary fandom. In 1994, Iris retired from RCA. (The factory closed for good four years later.) But that gave her more time to spend with her group of 10 friends, all of them going out to eat and then playing cards long into the night. One time—it must have been after Stockton and Malone made the Finals—another retiree wondered why a team named the Jazz played in Utah. Iris gave the group a snappy history lesson on the New Orleans Jazz and the Minneapolis Lakers. "Some people like sports, period," she says. "I just watch basketball."
---
While Iris is in her sixth decade of NBA fandom, she admits that something has changed in the last few years. She's become more devoted. "I watched quite a few of Reggie's games," she says, "but not as regularly as I do now."

The games really are the thing. Iris doesn't watch SportsCenter, and she doesn't get a newspaper or own a computer. Sometimes smaller transactions elude her. (She asked me if Seth Curry had landed with a good team.) She learned about LeBron's signing from the Indianapolis evening news. But she watches more basketball than ever.
Part of it is the Warriors. Their style of play encapsulates everything she loves about the sport. Iris still keeps an RCA schedule, but this spring she stayed up for every single Rockets-Warriors battle, plus the Finals. She wonders if LeBron would have been better off in Houston, trying to challenge Golden State. ("James Harden is a good player, but I wish he would trim his beard. I don't mind a beard, but it doesn't need to be that long.") I ask if she thought Cleveland or Houston ever had a legit chance. "No, not really," she says. The Warriors, when they are invested, are just too good.

But the Warriors aren't the only reason for Iris's uptick. She isn't much for prestige TV. "The new shows get too deep for me," she says. "You can't jump in in the middle and figure out what you're watching. I don't understand them. But if there's a ballgame on I can understand that."
And honestly Iris needs her TV more than ever. She and Lois are the only Clawson kids left. Her group of 10 friends is down to three, and it's hard for even them to get together, or for Iris to make the picnics for RCA expats, because she can no longer drive at night. Her eyes have gotten so bad that she can't quite make out the score during basketball games. A couple times a quarter she grabs her cane, pushes up from the recliner, and walks to the TV to confirm the score.
I never heard her complain about this. When Iris is talking basketball—when Iris is talking anything—she doesn't seem lonely or sad. She seems funny and vibrant and sharp, someone who's excited about the next 1,000-piece puzzle and the next Gunsmoke rerun, about the next toddler she can, with a little help, hoist onto her lap.
And Iris is excited about the upcoming NBA season, too. In fact, she's scheduled an eye exam for August, and while those new glasses won't have her driving at night, she's hoping they'll allow her to see the score. "Basketball will be back in October," she says, "and I'll be watching."