When I was little, I was convinced my dad was the Blown Away Guy. I was sure that was my dad's martini swept up in the audio tempest, my dad's tie thrashing behind him. The lush-haired guy in that '80s-dominating ad for Maxell cassettes getting blasted by the music blasting from a pair of JBL speakers, the veritable image of cool: It was Kevin Carroll, my dad. I was certain.
How running an NFL team is like running a restaurant | Chef Emeril Lagasse
The Blown Away Guy was aspirational, and my dad aspired. He might not have known that the Blown Away Guy's chair was designed by Le Corbusier, or maybe even who Le Corbusier was, but he knew what could make a guy eschew a savings account in favor a McIntosh 2105 receiver for the baddest hi-fi in town. He might not have known not to douse himself in a sea of Polo cologne, but he knew how to fold a pocket square for a three-piece suit. When my dad strutted into the production facility at the Providence Journal, he was the best-dressed guy there. Of course, he was the only guy in a suit; these guys were driving trucks to deliver the paper. But it didn't matter. He had a full head of silver hair at the age of 35, and he looked good. And he knew it. Everyone did.
My dad was a certain kind of guy. He was a Vietnam vet, smart as hell with no formal education. He drank himself to death and had a good time doing it. He always told me that Television was the best band he'd seen live, and that he'd fallen in love with my mom, who died when I was four years old, on their first date, when she fell asleep during an Elvis Costello concert. He took road trips to Civil War battlefields. He was a heavy hitter on the Journal's softball team. He was Irish American and hated, in roughly descending order, Margaret Thatcher, Ronald Reagan, and Morrissey. He blasted solo Lindsey Buckingham from his JBL speakers.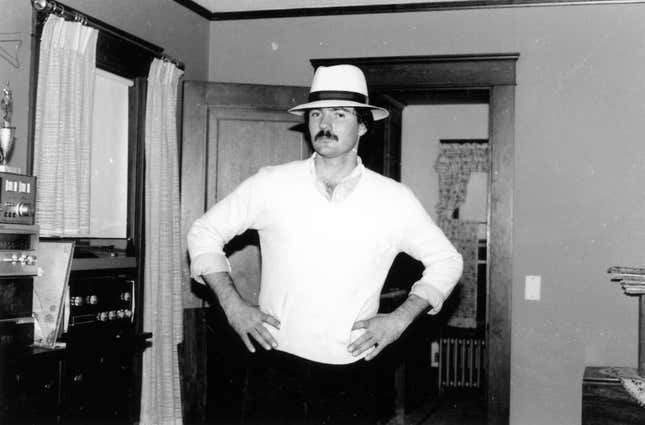 He wasn't great at being a single dad, but he tried. He sent me off to school with yellow-mustard-and-white-bread sandwiches. He tolerated the herd of My Little Ponies in the living room. Once, I threw up in the television section of Lechmere, and, after he'd made sure I was okay, he scooped me up, and we ran from the scene of the crime. In the getaway car, he laughed pretty hard, and when I cried, he told me the worst thing I'd done was ruin some unfortunate teenage stockboy's day. When we went to the supermarket, I'd ride atop his shoulders, his hands gripping my ankles, my head resting on his chin, the tallest girl in the world.

But there were certain nights when the familiar crunch of an emptied Heineken can would be replaced by the glugglug of Jameson into a glass, and on those nights, I learned to stay in my room. If I ever started to have any kind of finicky tantrum, he'd last a few seconds before he put his face right in front of mine and screamed, "STOP FUCKING CRYING!" It was a less than effective way to calm down a 5-year-old girl. Sometimes, my dad would drop me off for days on end with various girlfriends who grew increasingly irritated by my presence, not to mention his disappearing act. But sometimes, when I crawled into his bed late at night—which I almost always tried to do, to be there, next to him, to make sure he wasn't going anywhere—he'd touch my hair and tell me he was sorry. He was so sorry. I never asked why.
My dad was Maxell's target demographic. As the '70s came to be the '80s, the famed ad agency Scali, McCabe, Sloves created the Blown Away Guy to appeal to a new kind of consumer: the early adopter, someone who was just as likely to use a Maxell tape in a Walkman or car stereo as in his home hi-fi. The image they created was enduring. There's a Family Guy episode where Lois's wealthy father recreates the Blown Away Guy scene. When Kim Walker gives a douche-y college guy a reluctant blowjob in Heathers, there's a Blown Away Guy poster hanging on his dorm-room wall. The Simpsons' Milhouse gets the Blown Away Guy treatment when he plays the ultraviolent video game Bonestorm, and the guys in the first Jackass movie recreated the scene with a jet engine in place of a speaker. The chair, the lamp, the hair—it's an image as iconic as Edvard Munch's The Scream.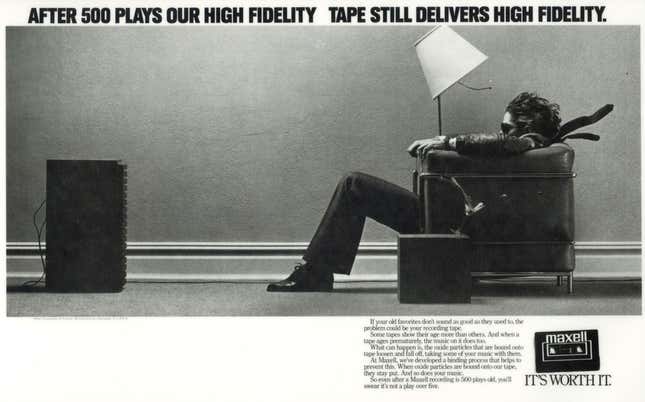 We had an unframed print of the Blown Away Guy hanging on the living room wall of the apartment where we lived after my mom died. It hung above a bust of Beethoven, which in turn sat atop an antique wooden console radio. Beethoven was a little taller than my eye level, and sometimes I pretended the radio was his body and the whole thing was my boyfriend. Blown Away Guy and Beethoven were the sole decorative objects in that apartment. When I asked Dad if he was the guy in the photo, if he was the cool guy in the sunglasses drinking a martini with the volume up extra high, he just laughed like he had a secret. At some point, in the way a kid learns what money does or overhears an old lady swear, I came to understand that the guy in the picture was some other man, a model. But that truth never mattered much to me.

The common presumption is that the Blown Away Guy is Peter Murphy of Bauhaus, but that is only sort of true. Murphy did appear in a later U.K. version of the ad, but his head, in profile, is held high in the chair, and there's no lamp or martini, and somehow it's less hip by half. The real Blown Away Guy, the photo we all recognize, radiates cool even though—or maybe because—we can't see most of his body or face. An eternal slouch.
As the story goes, Steve Steigman, the iconic photographer who took the shot in 1979, was looking for a long-haired model when he spotted Jac Colello, the hair and makeup artist on set. The fact that Jac looked and dressed a lot like creative director Lars Anderson, who came up with the concept, didn't hurt. Imagine that after the final scene in Mad Men, Don Draper leaves Esalen, conceives that Coca Cola ad, and starts dressing like a '70s rocker, and you've got a good idea of Anderson's talent and charisma. And for a happy accident of a model, Colello had his own pretty sweet resume: He was David Bowie's personal hair and makeup guy for the 1974 Diamond Dogs tour, largely responsible for Bowie's look of androgynous glamour laced with apocalyptic 'tude. You can spot Colello in the Bowie doc Cracked Actor, and in test shots for the tour's look, it didn't surprise me at all to see the rock star in a pair of red suspenders just like my dad's. According to Gary Hurewitz, a photo representative present at the shoot, the trifecta of Steigman, Anderson, and Colello was like catching lightning in a bottle. It was a once-in-a-lifetime moment of creative brilliance.
My dad has now been dead now almost half my life. The day before he died, we ate lunch at Murphy's Tavern, and when were done with our corned beef, he encouraged me to have a coffee, and then another. That night, he wrote me a suicide note: It's not your fault, he said. Go see Beethoven's Ninth with the chorale in person sometime. It's magical.
The next day, they found his body on the floor of a rooming house in Providence, R.I. The coroner ruled it natural causes—chronic ethanol abuse—but the note makes me wonder, of course. Why one coffee, and then another that day? Was he trying to tell me something? Was he asking me not to leave? My dad had never had to ask for a thing in his life. I hadn't even considered it.
Steve Steigman, the Blown Away Guy photographer, killed himself in 2004. His protégé, Gary Hurewitz, had lunch with him a few days before his death, and they discussed how Steigman was making more renting out his building then he ever had taking photographs. As Gary tells me now, "I said, 'Oh my god, you're making more money than you ever did going to work one day a week—you're the luckiest man on earth,' and I rubbed his little bald head. And he turned to me and he said, "Hurewitz, you're the luckiest man on earth. You never know.' And I laughed, and I was left that, and I wound up thinking, like, 'What was he trying to tell me?'"
After my dad died, I tracked down a storage unit filled with his stuff. The Blown Away Guy poster that had hung on the wall for as long as I could remember was nowhere to be found. The bust of Beethoven was there, though, cradled in a nest of foam peanuts, along with the McIntosh receiver and the JBL speakers.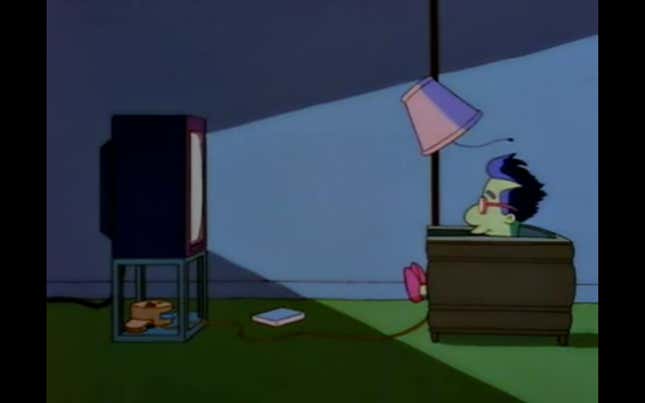 And here's the thing I've realized about the Blown Away Guy: It's mostly artifice. Colello's hair was sprayed back, and fishing line was attached to the lamp. The martini glass was filled with clear acrylic, and the olive was added in postproduction. During our last lunch, we started with French onion soup, and my dad had a strand of cheese dangling from his chin through our first coffee. I couldn't bring myself to point it out and embarrass him. It was like something that could be Photoshopped out later.
It would be nice to say I'm sitting here now, hair blown back by the excellent sound quality of my dad's hi-fi components, but somehow, over the years, through different apartments in different states, I've managed to lose all of them. I do keep one of his Ralph Lauren sweaters, navy blue with a red Polo horse, the same brand of his cologne, in the bottom of my set of drawers. For the longest time, it smelled like him. During his life, I thought that smell was obnoxious, really. It was, like everything else about him—his suits, his grandiloquent voice—turned up extra loud. After all, he was the Blown Away Guy. You'd know him if you saw him.
---
Leah Carroll posts stuff here and tweets here. Her first book will be published with Hachette/Grand Central in 2016.

Lead image by Sam Woolley.
The Concourse is Deadspin's home for culture/food/whatever coverage. Follow us on Twitter.