CAPE TOWN, South Africa—This is what a North Korean postgame press conference sounds like:
"Today is the birthday of the Great Ruler Kim Il-sung whom all people in the world can't help but admiring. So, even though we were very tired due to the long trip, we ran and ran with the only desire to make a report of a win to the generals and to the Ruler Kim Jong-un in my home country."
Team captain Ri Choi-min eyed the ground, shifting his weight from one foot to another. He'd started speaking without taking a question, as the team's manager, dressed in a thin gray suit with a button of Kim Jong-un's face on the lapel, translated his words into English.
I asked them how the team was preparing for the next game.

"We don't like talking much before the game so let's talk later once the results are in."

With that, they walked out.
North Korea had just beaten the United Arab Emirates 5-3 in the opening game of the IIHF Division III World Championships. The tournament, held in Cape Town, South Africa, was made up of countries you wouldn't expect to play hockey: North Korea, Greece, Ireland, the U.A.E, Luxembourg, and South Africa. Division III is the lowest grouping of teams in the world, the sixth of six levels of hockey under the IIHF. I'd say the best high school teams from Minnesota, my home state, could beat or at least compete with these squads.
When the North Korean players entered the GrandWest Casino arena for the first time, they looked more like soldiers than athletes. The players walked in single file, uniformly spaced, wearing red jumpsuits of a cheap polyester blend, each with a small, ironed-on North Korea flag on the front right breast and "DPR Korea" spelled out across the back.

The press conference was what you might predict from a North Korean team–a shoutout to the memory of the country's deified founder and a nod in the direction of the current leader; every game is expressly being played for his pleasure. At some point for me, like most Americans, North Korea became the catch basin for all the 1980s Cold War stereotypes about Soviets and Communism—self-imposed isolation; militant, unforgiving culture; strictly observed humorlessness. That was why I came to Cape Town in mid-April: to attach myself to the North Korea team and see how my expectations matched the reality.
G/O Media may get a commission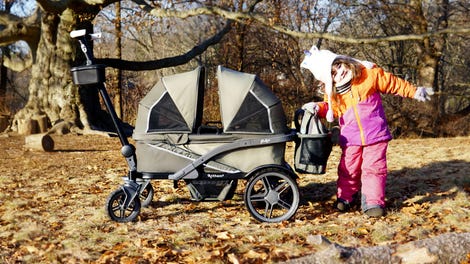 30% off
The Anthem All-Terrain Stroller Wagon Adventure Bundle
Go everywhere with your kids
This must-have bundle nets you either of Gladly's award-winning Anthem2 or Anthem4 All-Terrain Stroller Wagons as well as must-have accessories like a parent cupholder, a removable storage basket, extra-large canopies, a nap system, quilted comfort seats, a cooler bag with a padded shoulder strap, and a travel bag.
The tournament began just as Kim Jong-un was making his first big splash on the world stage, threatening nuclear war with the United States and South Korea. Photos streamed out of North Korea with Kim sitting in front of military machinery that might've come off the set of an early James Bond film.

We couldn't resist the jokes. The manager of the Irish team stepped into a packed hotel elevator. He noticed two North Korean players standing front of the panel, so he barked, "Push the red button!"
One South African player told me that the team wasn't that social, that the players were always serious. He also told me they hated when you referred to their country as "North Korea." You were supposed to call it the Democratic People's Republic of Korea. When they arrived at their dressing room before the first game, the sign on the door said "North Korea." They tore it down immediately and threw it in the trash. A hastily made DPR Korea sign soon appeared in its place.
---
In a bar above the ice at the casino arena, the team's manager, Ri Song-chol, and the "team leader," Pak Je-won, put down about six Heinekens between them as they dug into a curry dish served up by the hockey association.
The manager, Ri, is in charge of organizing the team's travel to tournaments and managing logistics upon arrival, but he might as well be the public face of the North Korean team. He acts as its liaison to the outside world. He's the only one who speaks English well. What the "team leader" does wasn't quite clear. Pak seemed pretty stern with everyone, including the coaches, and was always filming everything. I'd guess he was the government minder for the team, keeping an eye on everyone to make sure no one said anything critical of his home country or made a break for political asylum.
The two sat and ate, drinking their beers quickly. Ri jumped up and grabbed two more when they'd finished. There seemed to be some argument about whether to get a fourth round, and Pak left. I sat down with Ri.
Ri spoke softly and seemed wary of all the questions. He provided factual answers, but didn't elaborate. He told me about the country's professional league, which has seven teams, the best of which are in Pyongyang. He said the sport isn't all that popular there, lagging distantly behind soccer and gymnastics. He said none of the country's leaders played hockey.
Hockey came to North Korea in the 1950s, when Chinese and Russian workers introduced the sport. Professional leagues arrived in 1956, and the national team has been competing off and on since 1964. The IIHF says the country has three indoor rinks, 12 outdoor rinks, and about 1,500 players, but as with all things in North Korea, numbers are hard to verify.

I asked if the team felt strange about traveling at a time when North Korea was on front pages around the world for all the wrong reasons. Ri said he didn't understand the question, and I rephrased it. Shifting uncomfortably, he said: "Sport is sport. Politics is politics. Then he left the room.


On the second day, players started to smile at me, waving and making the "hang loose" sign with their hands as they came out of the locker room.

Even Ri, whom I thought I'd offended during our earlier conversation, became a friend. The 36-year-old, always in the same gray suit, would walk over to greet me with a big, swooping handshake and a pat on the back.

We'd chat daily before his games. Between periods of the South Africa-Greece game, I bought him a beer at the arena bar. He never commented on politics. Instead, he asked about simple things: How old was I? Did I have a wife, any children, a car? He beamed when he talked about his wife and 5-year-old daughter.
He described Pyongyang, which he said was a lot like Cape Town, green and beautiful. He told me he'd started studying English in school when he was 14, that he'd never played hockey in his life, and that his favorite music was a song about Dear Leader.


---
Even in a division of hockey minnows, North Korea stood out. The tournament featured one of the richest nations in the world, and the U.A.E. team reflected the country's wealth. The squad actually had an equipment manager, a Canadian. The equipment looked barely used, maybe even new, and it was top of the line. Each player had at least two back-up sticks. They finished dead last.
In the first game of the tournament, I had noticed that the North Korean players were handing each other sticks as they changed shifts. They didn't have enough.

Ri bought six new carbon-fiber sticks at the arena, which he said cost a lot less than he'd pay in North Korea. But with more sticks broken as the tournament wore on, the team was still short. On the day of the championship, Ri attempted to trade a North Korea team jersey for an extra stick from one of the Irish players.
There was noticeable age to the rest of North Korea's equipment. The team captain's gloves looked as if they'd been used in combat. Their leather had been chafed thin, and they were covered in patch jobs where there weren't any cuts and tears. I showed pictures of them to someone at Sher-Wood, the company that made the gloves; I was told they were at least 12 years old.
---
Halfway through the weeklong tournament, the city of Cape Town provided a banquet for all the teams.

As soon as I arrived, North Korean managers waved me over. Team leader Pak Je-won, a gruff man whom I never saw smile, immediately summoned a waiter, pointed at my glass, and started chanting something in Korean, which the waiter didn't understand. As Pak raised his voice in frustration, the translator picked up on it and started loudly demanding "champagne, champagne, champagne!"


The waiter came back with a bottle, and Pak gestured for him to leave it. He smacked the table with both hands and pointed at his empty plates. The waiter shot me a look and took the plates away. Pak then made the entire table—me, the U.A.E manager, and three North Korean staffers—fill up our glasses, say "gun bae!" (Korean for "cheers"), and drink.
Pak was always trying to top off everyone's glass, including the U.A.E. manager, who repeatedly explained he was Muslim and didn't drink. Every time anyone at the table got a refill, there was an immediate call of "gun bae!"

As the banquet ended, the manager, team leader, and two coaches came up to have their photos taken with me. The team leader told me I was a solid man and I should come see them in Pyongyang. I said I'd love to visit, but it never came up again.
---
North Korea opened the tournament after spending four days just getting to South Africa. The first leg had been a train from Pyongyang to Beijing. Those who've taken it say the ride is terribly slow, bumpy, and prone to long stops. There's also a daily flight between the cities, which takes 90 minutes. The train is about $400 cheaper.
The North Koreans played the U.A.E. in their opening game. Sixty minutes before the puck dropped, they were all sitting on the bench, staring out at the ice, as if unsure what to do. Finally U.A.E. players began to trickle out from the locker room, at which point the North Koreans came over the boards and began shooting around.
North Korea scored three quick goals in the first period, then coasted to a 5-3 win. The team would repeat this throughout the tournament, playing to take a lead and then locking it down with a boring but effective trap defense. It was like watching Jacque Lemaire's Devils and Wild teams.
It wasn't that the players didn't have skill. Their captain, Ri Choi-min, had seven points over five games, netting five of his team's 20 goals, and Ri Pong-il would be named the tournament's top defenseman. But North Korean political philosophies bleed over into sports—if they were to succeed, they would succeed with a system.
The coach was constantly tweaking the game plan, though he'd usually open the game heavy on defense, getting a look for what the team was bringing. In the second period, the players would open things up, try to score, and then fall back into the trap.
The North Koreans' passing was tape-to-tape clean, and if there were mistakes, they were quick to recover. What they did really well was clog up passing lanes and limit good shooting chances. Their penalty kill was a tournament best 94.4 percent, but their power play was a tepid 4.2 percent, lowest in the tournament.
There were oddities in their game that even a lack of experience didn't quite explain. The most notable was a lack of physicality. North Korea's players weren't small, but when it came to a loose puck on the boards, everything was done with the stick. Even when another team brought a heavy checking game, North Korea didn't change its style.
Then there was goalie management. Despite their starting goalie posting a 1.88 goals against average during the tournament, they'd regularly pull him and replace him with another goalie for the third period. That goalie posted a 2.75 GAA.

And whenever the North Koreans had an odd-man rush, they always passed, yet would invariably shoot from six feet out, never dekeing, even if the goalie dropped early. It made no sense. But there was a system, and the system was there to be adhered to.
As the week went on, the players began to defrost a little. They were subdued in celebration against the U.A.E., with barely any cheering from the bench. But they loudly celebrated goals in on-ice scrums en route to beating Luxembourg, 5-2, and Greece, 7-1. And in a surprisingly tight game against Ireland, forward Kim Hyok-ju slid on his knees, soccer style, after scoring the second goal of a 2-1 victory.
I was becoming a fan, which felt a little weird considering that they were mobile propaganda for a regime that had just threatened to start a war with my country.
The night before the championship game, I headed to the hotel where all the teams were staying. In the hotel restaurant, we came across a group of South Koreans who live in Cape Town. They kept looking up whenever someone would come into the restaurant, and they had four large tupperware containers. When North Korea's managers walked in, the South Koreans swarmed them with handshakes and smiles.
It was a mini-reunification, some 8,000 miles away from home. North Korea's managers and coaches sat at a round table with the South Koreans. The team manager jumped up and went to the hotel buffet, piling one plate of full of beef tips and another with carrots, cucumbers, and salad.

The South Koreans slid the tupperware across the table.

"I met him [Ri] this afternoon, and I said, 'Can I bring some food and bring some kimchee?' because they were tired of American-style, Western-style food," one of them, a woman named Sharon Lee, told me. "Our people, North or South, it doesn't matter, have a traditional food. … When we travel we are missing that salad especially, so we know they are missing that food. That's why we brought it from home to give to them."

Sharon's husband, Paul, said North Korea's managers were friendly but didn't talk much. They just exchanged niceties and personal questions.

"We didn't talk about politics. We talked about human things," he said. "I don't want any arguments."

Of all the things that happened in the week, my biggest disappointment was that the team's only foray into the city was a walk down to the boardwalk on an afternoon off. Despite the city's offer to take the team to Cape Town's iconic Table Mountain and the Cape of Good Hope, the North Koreans declined. They'd discussed going bowling, and I begged to join, but that didn't happen. Instead, the players, having traveled to one of the most beautiful cities on Earth, split their time between a casino ice rink and their hotel rooms.
---
The anticipation for the final game of the tournament was intense. Ri had frequently talked about South Africa, a team he wasn't sure North Korea could beat. Both were undefeated coming in, making the final game of the round-robin the de facto championship.

Led by two South African-born Canadians, the South African team was dominant on the boards and dangerous offensively. The North Korean team was at a disadvantage in skill, physicality, and size.
North Korea held South Africa to just two goals over the first two periods, its trap defense seeming to work. But South Africa scored early in the third and, despite North Korea's netting one and hitting the pipe twice, cruised to a 4-1 victory. The South Africans had been outshot 34-21 by the North Koreans.
Lined up on opposite blue lines after the game, the North Korean players looked despondent, staring emptily ahead of them or at the ice. They shook hands with the South Africans and skated through a medal ceremony. When one of the North Koreans was named defensive player of the tournament and handed an iPad mini as an award, he seemed too down about the loss to care. I'm not sure if he got to keep the iPad.
Again, we waited in the press room. The team captain spoke, and Ri Song-chol translated.

"In this game we did not play very well," Ri Choi-min said, "but next year we will try harder so we'll win the gold medal."

He said his team was a bit tired from the long trip from Pyongyang to Cape Town, but he thought Cape Town was a beautiful city.

Asked again about the political situation, Ri Song-chol said he didn't understand the question and stammered until a TV producer asked him something about the game.

And that was it. I'd hoped to get one-on-one time with a player, to find out what he thought of traveling in the outside world, what he thought of his new leader, the United States, the world in general. Getting anything from the players was nearly impossible. I sat next them in the arena seats during other games, and they seemed friendly, but they didn't speak much English. Ri would come over and say the coaches didn't want the players bothered.
In the hotel lobby, the players would come down, eat a quick dinner, and take off as soon as they were done. On their last day in South Africa, a Swedish journalist showed them his smartphone, which they couldn't take their eyes off of. Ri, too, was fascinated by the phone, as the Swede showed him tweets he'd posted about the North Korean team. We couldn't tell if he knew what Twitter was.
After the final game, I stood outside of the arena. It was humid and overcast. I was hoping to see the team one last time, on its walk out to the bus. Pak Hyong-gyun, the North Korean goalie coach, came outside alone. Pak, 61, has a grandfatherly air about him and smiled a lot. He offered me a cigarette, which I accepted. We stood there in silence, admiring the mountains of Cape Town. Suddenly, something clicked with him. He jammed his hand into the inside pocket of his suit jacket. Out came a small pin, a North Korean flag, which he carefully attached to the right breast of my sweater.

I thanked him, and we walked back into the arena together. He left with his team. And I took off my North Korea pin.
---
Also: The North Korean hockey team, in photos
---
Peter Cox is a freelance journalist based in Johannesburg, South Africa. His work has been published in papers in Minnesota, New York, London, and Atlanta.