The NHL Closer is written by Greg Wyshynski, of FanHouse and The Fourth Period. He is also the author of Glow Pucks And 10-Cent Beer.
If the Nashville Predators rally to win Puck That Hit's "Who Has the Hottest Ice Girls?" contest, that would be just fine, judging by the evidence at hand. But for the betterment of hockey in these United States, the Preds really need to the miss the Stanley Cup Playoffs this season — for two (other) very compelling reasons.
This isn't a slag on Nashville hockey. Lord knows those fans have been through enough, what with last year's talent defection and ownership follies with Jim Balsillie (Slogan: "He's the Ball-Silliest!"). The Predators even have one of the better stories in the Campbell Conference this season, as career journeyman goaltender Dan Ellis has nearly usurped anointed starter Chris Mason. They're like the Katie Couric and Deborah Norville of puck-stoppers.
A check of the standings this morning finds Nashville with 76 points, in the eighth seed. Vancouver follows with 74, but confidence in the Canucks is dropping so quickly that their coach recently suggested that "bandwagon jumping" become an Olympic sport. And then there are the two reasons why the Predators should concede their playoff slot: the Phoenix Coyotes (73 points) and the Chicago Blackhawks (72). All due respect to Nashville, but these are more compelling teams for postseason hockey and casual playoffs-only fans. Both of these teams are trying to snap four-season playoff droughts. Both have players who will be leading the next wave of NHL stars. And Phoenix has Ilya Bryzgalov, who back-stopped the 'Yotes to a 2-1 win in Dallas last night and who should scare the living shit out of Detroit in a first-round match-up.
G/O Media may get a commission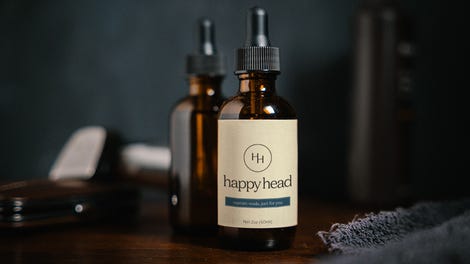 And then there's Chicago, who has had a cache of cool this season from "Commit To the Indian" through Gary Bettman's acknowledgement that a Winter Classic at Wrigley Field would be the coolest thing to hit the friendly confines since a drunken Ozzy warbled "Take Me Out To the Ballgame." Detroit and Chicago in the first round? Yes please, especially if the 'Hawks knuckle-up like they did in last night's 3-0 win over Anaheim. If the Ducks feel like you're playing too physical (headhunting Chris Pronger is pretty much the definition of irony, isn't it?), then you're doing something right. Parros looked mighty angry:
Atlanta Is Too Greasy.The warm-ups before Carolina's 6-3 win over Atlanta were interrupted by a fire alarm caused by a grease fire in a restaurant at Philips Arena. "At first, I was like, 'This is odd warm-up music. I don't know what they're listening to,'" said Carolina's Scott Walker, who's sorta dumb, but in an endearing way. It gets weirder: In the second period, Bret Hedican dumped the puck into the Thrashers' zone, it hit referee Steve Kozari's skate and then went right into the Atlanta net. But the goal was waived off, because NHL rules state that the only time a referee can screw a team with an illegal goal is if the Sabres are playing for the Stanley Cup. Speaking of which...
That Ovechkin Fella's Pretty Dang Good. Goals Nos. 53 and 54 for Ovechkin, who was heartily booed by Buffalo fans throughout the Capitals' 3-1 win last night. Ovie's coming for you, Luc Robitaille! Remember all that bullshit about changing the playoff seeding rules because the Southeast was so pathetic? The Caps are now two points out of the eight seed. Remember all of that other bullshit about Washington not being a hockey town? Yeah, about that.
Puck Headlines
* Sean Leahy offers a glimpse at the Sidney Crosby McFarlane Toys Winter Classic Action Figure. And from the looks of things, there should be a YouTube stop-motion animation featuring Crosby dancing to "Baby Got Back" or "Da' Butt" in the very near future. [Going Five Hole
* If you've always wanted to hear a fake TV lawyer utter the words "hockey jungle-sex three-way" ... well, today's your lucky day. [[B]utterfly[S]uicide
* The KB's "Best NHL Hit of All-Time" tournament has had a longer running time than a Peter Jackson remake of "The English Patient." But we're in the semifinals now, where it's Dion Phaneuf on Denis Hamel vs. Brian Campbell on RJ Umberger. The Phaneuf'ing is only good because Hamel weighs under 200 pounds and goes flying; it's like The Undertaker choke-slamming the 1-2-3 Kid. Which is why I am again supporting the Umberger demolition. "WHHHHHOOOOWHAT A HIT BY CAMPBELL!" [Orland Kurtenblog]
* Don Cherry spent the day surrounded by hockey moms. "You guys are da best mums in da world! Just don't let yer kids grow up to be visor-wearin' Euro pussies, eh?" [CBC]
* Finally, there were some requests yesterday for more hockey violence. So here's Doug Gilmour taking out Mark Messier, Bob Probert throwing down with Tie Domi and Wayne Gretzky's head bleeding ... all courtesy of NHLPA '93. "I'm gonna make Wayne Gretzky's head bleed for SuperFan No. 99 over here..." See you next week.