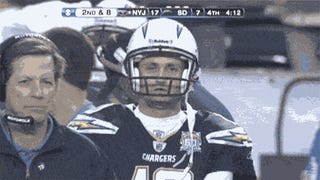 A month after signing with Tampa Bay, longtime Chargers kicker Nate Kaeding has decided to retire instead. That'll happen.
Kaeding came to San Diego in the Eli Manning trade, and over nine seasons with the Chargers became the most accurate kicker in NFL history. (He would drop to second in his brief stop in Miami at the end of last year.) But Kaeding tended to come up short, or wide, in the postseason, making just eight of 15 field goals. Most notably, he missed all three of his FG attempts in a 2010 divisional playoff against the Jets, a game the Chargers lost by three. That's the source of the above gif. You should watch the gif a few times. I'm mostly writing about Kaeding's retirement as an excuse to show the gif.
He missed nearly all of 2011 with a torn ACL, and a groin injury sidelined him three games into 2012. The Chargers released him, he had a cup of coffee with the Dolphins, and seemed set to compete for the Buccaneers job this year until suffering another groin injury a few days ago.
"It's not like I can switch the way I kick, or change this way, or use a different muscle," Kaeding said. "Especially for me, and the way I kick, that's the main lever in the kicking motion. It's impossible to avoid it and I've got these chronic issues."
Let's look at that gif again.