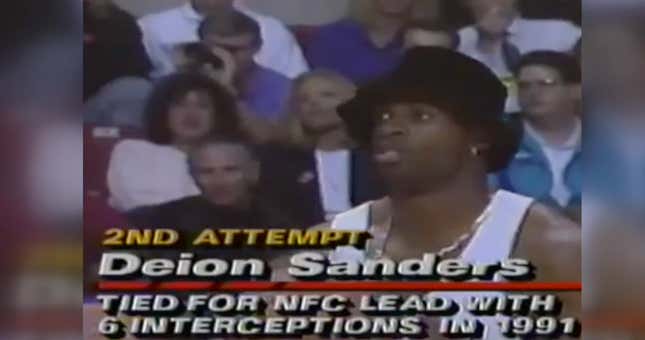 Everyone loves a good slam dunk contest. It doesn't matter if it involves NBA players, college athletes, or dudes from the neighborhood. If those involved are talented, creative highflyers, folks will gather around to enjoy the festivities. Obviously, the NBA owns the crown when it comes to spectacular dunking ability. But in 1992, the association stars stepped aside to allow other star athletes like Ken Griffey Jr., Deion Sanders, Cris Carter, and Michael Irvin to show off their skills around the rim. That dunk contest should be revamped and brought back.

Mac McClung & the history of white men who can jump
Some participants from that '92 contest could act as judges in this one. Then we'd grab a few pro athletes from different sports and not just necessarily athletes in the United States. Since most sports are global at this point, at least having the capability to watch and keep up with everything via social media, opening this pool could yield an even better product.
Who would dunk?
Undoubtedly, the first league that comes to mind is the NFL. We could certainly fill this entire contest with football players who swear they could play in the NBA. But all we want is a select few to make the cut and show the world how high they can fly. A guy like D.K. Metcalf would likely do well in a dunk contest. Tyreek Hill might be smaller than Metcalf, but he can also go above the rim. There are a ton of NFL guys who'd love to get in on this action, including legends who are long retired, like Terrell Owens, who's still in great shape at nearly 50 years old.
Where this could really be fun is including players from leagues people wouldn't expect to be slam-dunking. Sports like hockey and soccer, for instance. Not that they aren't athletic, because they are some of the best athletes in the world. Most people, especially hardcore basketball fans, wouldn't expect a guy like soccer megastar Cristiano Ronaldo to be dunking a basketball. Those who follow soccer closely know he can jump, so let's get him in this contest. He'd likely be the biggest draw.
One of my colleagues here at Deadspin, Eric Blum, suggested Tage Thompson and Weston McKennie. Thompson has been described as "Kevin Durant on ice" in the past. Not that Durant is an amazing dunk artist, but you get the correlation. McKennie is a soccer pro for the USMNT, who is allegedly a dunker. He's also a huge fan of American football, having grown up in Texas. You could add Mookie Betts from the baseball world since he's shown some skill on the court. And who wouldn't want to see Angels athletic freak of nature Shohei Ohtani —who at 6'4, has the height — try his luck above the rim?
Indeed there are others, but this group here would be good enough to pack the house and put on a captivating show. Even if they needed to make "modifications" to the court for some participants, it would still be a fun event that people would watch worldwide. Now all that's needed is someone to promote this and get the ball rolling. Whether the NBA sponsors this or it's a charity event, this could be big and highly entertaining.