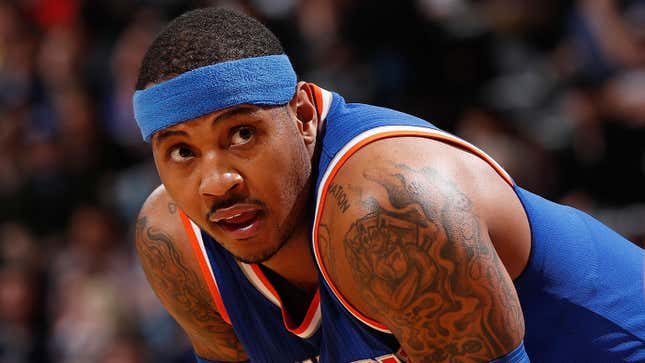 Carmelo Anthony is calling it a career after 20 years in the NBA. Anthony says his official goodbye to the game ninth on the NBA's all-time scoring list, and 11th when including the ABA. On Monday morning, he posted a farewell/tribute video reflecting on his career on Twitter, where he spoke of his legacy and passed the torch to his son, Kiyan Anthony.
NBA getting ROCKED in the ratings by the NFL
What is Carmelo Anthony's legacy?
But how will he be remembered? When Anthony entered the NBA in 2003, coming off a National Championship run at Syracuse, young Carmelo had a ton of promise and title aspirations. He averaged 21 points per game his rookie year and was voted to the All-Rookie squad alongside LeBron James, Dwayne Wade, Chris Bosh, and Kirk Hinrich. Anthony would be linked to all those names for most of his career except for one. Hinrich had a long NBA career but was nowhere near the caliber of player his All-Rookie team cohorts would become.
As the years went by, Anthony's star continued to rise — he became one of the more lethal scoring threats in the Association, with the ability to get his shot anywhere and anytime he desired. He won the scoring title in 2012-13 when he averaged 28.7 ppg, the second-highest average of his career.
However, it always felt like something was missing with Anthony, no matter how great he performed. By '13, James, Wade, and Bosh had all won championships and had two together as part of the trio that Melo was supposed to join in 2010. It was always said that Anthony was set to join Wade and James in Miami to create a big three super team. Instead, Melo opted for his own route in search of winning a title on his own team. Melo owned being immature and naive when he passed on that opportunity.
Looking back on Anthony's NBA career
Anthony led the Denver Nuggets to a Western Conference Finals appearance in '09 before forcing a trade to the New York Knicks midway through the '10-11 season. Rumors of Anthony making his way to Miami would continue to resurface, but it never happened. When James, Wade, and Bosh joined forces, Anthony's career was nearly on par with theirs, but once the trio began to win titles and played in four consecutive NBA Finals, Melo seemed to get lost in the shuffle.
During the first few years of their careers, Anthony and James were constantly compared and were seen as being on similar paths to NBA greatness. Then LeBron kept elevating and began winning league MVP, playing in NBA Finals, and becoming the face of the NBA — a position he still holds in the eyes of most. Don't get me wrong, Melo had a fantastic career, but it feels like he left more on the table.
Aside from the missed opportunity in Miami and his later years, where he sat out nearly an entire season after leaving OKC in '18, he is still one of the greatest scorers of his era and most prominent names. A 10-time All-Star and six-time All-NBA selection, Anthony posted over 28,000 points during his lengthy career. He's undoubtedly a first-ballot Hall of Famer; nothing, and no one will change that. Melo is also a member of the NBA's 75th-anniversary team.
Now it's time for his son, Kiyan, to take the reins and carry on the hoop's legacy of the Anthony name. He's currently listed as a four-star prospect, but has two years of high school ball remaining. If you haven't seen this kid play, look him up on YouTube because at 6-foot-5 and just 16 years of age, he'll likely be a five-star prospect by the time he's eligible for college. Don't be surprised to look up and see him drafted in the next few years. Kiyan is already showing signs of being a next-level baller like his pops.