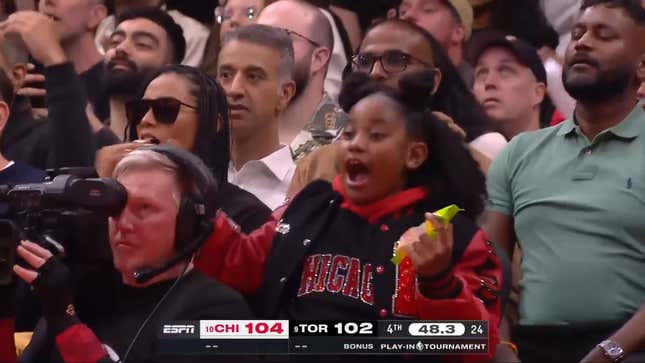 Ray Liotta's Henry Hill said in Goodfellas that your killers "come with smiles." The Toronto Raptors' killer was a nine-year-old girl who surely arrived at Scotiabank Arena with a smile on her face, because her father allowed her to miss school. Once the game began though, Diar DeRozan was more relentless on defense than Dennis Rodman guarding Karl Malone, and the Chicago Bulls went on to defeat the Raptors 109-105.
DeMar DeRozan is the modern day Michael Jordan
Of course Zach Lavine's 30 second-half points were a major factor as well as some big plays by Patrick Williams and her father DeMar. All that being said, Diar put the clamps on the Raptors. How did an elementary school student swing a win-or-go-home game? By shrieking her heart out during every Raptors free-throw attempt.
Fans scream at shooters all of the time. Usually to no avail unless it's a young player in front of a rabid fan base like Boston, Philadelphia, or Sacramento — a home-court advantage some of you youngsters will discover coming this weekend. Diar's distraction worked by using the Raptors' home-court advantage against them.

The building is normally silent except for a handful of visiting fans when the home team shoots free throws. The precocious Diar decided to use that silence to perfectly time screams, one of which was so sudden that while watching the game in Southern California I almost dropped my dinner. The results of her loud vocal defense, a team that shot 78.4 percent on free throws for the season, shot 50 percent in an elimination game at home.

That 50 percent that the Raptors shot from the foul line was on 36 tries. They shot 14 more free throws than the Bulls and converted on the exact same number of attempts. Diar DeRozan broke basketball analytics.

While the 3-point shot is extremely important, outside of an uncontested layup there is no shot more desired in basketball than a free throw. It is a wide-open shot that allows players to set their feet and go through a routine before releasing the ball. In 2022-23, the league average in free-throw attempts per game is 23.5 and the conversion percentage is 78.2.

The argument that Diar's screaming resulted in the Raptors' ghastly performance from the charity stripe is most certainly not causative. However, scientists looking at this small sample size of data would be curious enough to want to run more experiments.

Diar won't be at the next game
The Bulls will have to defeat the Miami Heat on Friday without Diar. Demar told the press after the game that she is not missing any more school. Could the Reinsdorfs find a way to get her to Miami by 7 p.m. EST by charter jet? It depends on if they would even be willing to spend that money. Cost is usually something that the Reinsdorfs work to minimize.
What about virtual schooling? I mean it is 2023. Young Diar could absolutely spend Friday in Miami with daddy and still not miss any education. Then later, she could be ready to take her place by the hoop and give Jimmy Butler, Bam Adebayo, and the rest of the Heat the blues.

In all honesty, if that was my daughter I wouldn't want her at that game. With all of the attention that she has already received, I wouldn't want her in an opposing stadium even if school wasn't a factor. Toronto was a friendly environment with that city being where he played most of his career. Now that her face is known, I wouldn't want her in a postseason environment in which she would have to be protected.

Still, she will always have Apr. 12, 2023. One day she can tell her kids that she played a role in ending an NBA team's season. When they accuse her of being untruthful, all she has to do is run a search for the day and present the results. Those results will show that a happy child terminated the hopes of grownups in Canada.