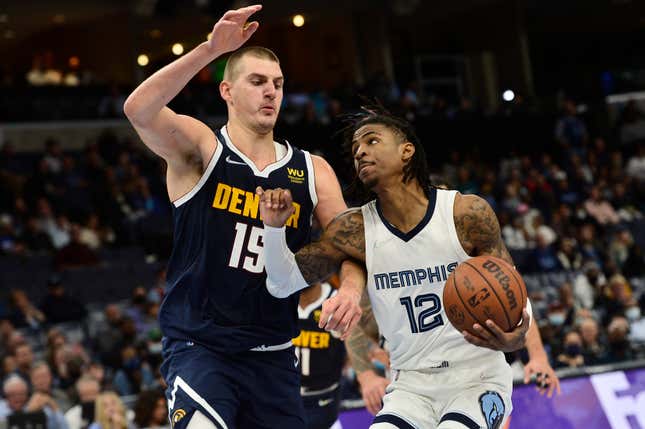 If you directly asked the NBA powers how they would feel about a Memphis Grizzlies-Denver Nuggets matchup in the Western Conference Finals, I think they'd offer a "We'd love that." However, if you asked the same people the same question in an anonymous poll, I'm pretty sure the responses would be something vastly more negative than "We'd love that."
Can the Sacramento Kings do damage in the post-season?
There are two teams separating themselves from the rest of the West, and that's Denver and Memphis. Now, the league faces the distinct possibility that two small-market teams may crash their season-end soiree. And, yes, I'm acutely aware I came off like I was talking about a pending natural disaster, but that was intentional. (Because, of course, it's not.)
Denver has won eight in a row, and reigning two-time MVP Nikola Jokić has tallied five triple-doubles in his past six games. Memphis is riding an 11-game win streak, led by Ja Morant's 27, 8, and 5, and aided by what's become the Grizzlies' typical team ball.
Denver and Memphis have been the most consistent of any team out West right now, and as the Sacramento Kings are showing, consistency can get you pretty far this year. I also trust the Nuggets and Grizzlies to continue their respective success (barring injury, of course) because we've seen it before and know it's really effective when it's going.
So, it's not insane to say we could see them finish 1-2 with win totals in the upper 50s, maybe hitting 60 considering the competition, and cruise through the first two rounds. That leads me to my first question.
Do fans really want a Nugs-Grizz Western Conference Finals?
The two franchises are within a half-game of each other, but are at least six games clear of the rest of the pack, with Sacramento — yes, you read that right — the next closest team. We've done this dance before with these two teams, but this year feels different.
Denver is finally — finally — healthy, and it's great to see Jokić surrounded by a full complement of players. When Jamal Murray tore his ACL a couple seasons ago, the Nuggets were peaking, and just needed a few more games to implement Aaron Gordon, having recently come over from Orlando, into the starting lineup.
Fast forward to 2023, and even though Murray is not quite the guy he was before he got hurt, Jokić is fucking battle tested. He's been carrying corpses to respectability for the past couple years, and seems more than ready to stare down his postseason demons.
While Memphis is young, the Grizzlies have the experience from a year ago to lean on, as well as the knowledge of who they are. Jaren Jackson Jr. and Desmond Bane took turns rehabbing injuries this year, but are back in the starting lineup alongside Morant, and getting some much-needed reps next to each other.
Hoops heads know the supporting casts behind Morant and Jokić, and would be completely comfortable watching the Banes, Murrays, Gordons, Porters, and Jacksons of the world. If that matchup pops up on the League Pass home page, I'm devoting a large chunk of that night to watching a basketball savant play a comet.
The argument for a Denver-Memphis series is that. Expose everyone who hasn't watched these guys play, and force-feed it to them because it doesn't happen in the regular season. We're usually arguing about the Lakers, the Warriors, the 76ers, or whatever because that's what draws clicks.
Which brings me to my next question.
Does the NBA want a Nugs-Grizz conference finals?
This is easy. Fuck no. I think Morant and Jokić are probably household names by now because of Morant's dunks and Jokić's accolades. I still had to think about it though because they're not in commercials or news cycles like Steph Curry, LeBron James, Chris Paul, or even Luka Dončić, and Zion Williamson. Think about the big names and big markets in the West. I haven't even mentioned Kawhi Leonard and Paul George. How about Damian Lillard and Anthony Davis?
You have the Warriors, Lakers, Suns, and Mavericks, and you're going to give us "Whoop that Trick" versus "Manbuns and IPAs?" The Nuggets are the least popular of Denver's four major sports teams, and it isn't even really that close.
I know Grit and Grind is the main attraction in Memphis. However, it's not an iconic small market — at least not yet — because they've only had a team for a little over 20 years, and it's an expansion team at that. Whenever Seattle gets the Supersonics back, they'll immediately have more history (and probably nationally televised games) than the Grizzlies.
Pretty much everything in the past three paragraphs is triggering to those fanbases. I'm a fan of a small market team myself, so I know how much it sucks to have some random national guy shit on your team solely because of where it's located.
And that's why I'm rooting for Denver and Memphis to wrest the gaze of sports fans from LeBron's drama or Draymond Green's antics. Force Get Up to lead with Jokić and Morant while Stephen A. Smith tries to drum up energy between sulking.
Well, that I want that — and great basketball.