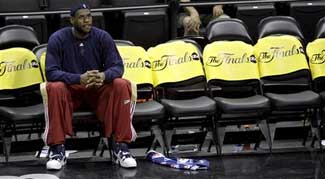 Views Of The NBA Finals, Game 2, From Around The Internets ...
• True Hoop: "Doesn't it feel as if Cleveland is stuck in goo? It just kills me how slow Cleveland is at getting into plays. I know plenty of teams have won by killing clock, but it just looks like it'll be the death of this team."
• The Basketball Jones: (Promoting that ole podcast) keets and I somehow muster up the energy to discuss a painful Game 2. Why is LeBron on the bench in the NBA Finals?; Will Coach Brown finally decide to speed up the Cavs' offence?"
• Cavaliers Blog: "This was a whipping, nothing else. I've seen them before in the AT&T Center and I'll see them again probably. Not only are the Spurs the better-looking team after the 103-92 Game 2 win, they are playing at a very high level. If they continue to play like this, I don't think it will matter what the Cavs do in all honestly."
You'd be amazed, by the way, the number of premiere NBA bloggers who didn't even touch that game. What a series!