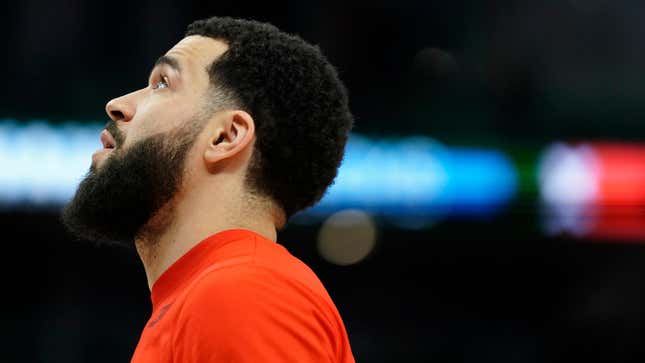 Before anybody evaluates contracts or shouts that Fred VanVleet is overpaid from the mountaintop, let's take a moment to congratulate all of the free agents who just guaranteed themselves and their families generational wealth. Tyrese Haliburton, Jerami Grant, Desmond Bane, Kyrie Irving, Cam Johnson, Kyle Kuzma, Khris Middleton, Draymond Green, and VanVleet all got $100 million at least, and at best it sounds like Halliburton and Bane will be collecting north of $200 million.
Rob Riggle, Amin Joseph, Joshua Malina and more share NBA Finals predictions
And those nine players are just the guys who netted nine figures. There was a bevy of role players — Bruce Brown (two years, $45 million with Indiana), Rui Hachimura (three years, $51 million to stay in LA), Herb Jones (four years $54 million from New Orleans), and Gabe Vincent (three years, $33 million to become a Laker) among others — who "settled" for eight figures. Despite a majority of these deals reminding me of the free agency flourish that preceded the cap spike that saw guys like Evan Turner get grossly overpaid, that's a crazy amount of loot.
For context, Halliburton's max contract, which could be worth as much as $260 million, could buy you 1,385 2023 Mercedes Benz G Wagons, or, if you want a little more modest option, 9,400 2023 Toyota Corollas. That's generational wealth, and regardless of capitalism's effects on society, shout out to every player who got a bag.
The other part, aka the analysis of the deals, will play out over time, but someone has to assign the contracts a ranking as we'll be crowing about a few of them for years, and here we are. So let's do a quickish rundown of who spent $100 million-plus the wisest.
It was worth it
Only two players on this list are deserving of the money, and that's because they could still overachieve. Haliburton and Bane (five years, $207 million) are 25 years old or younger, and haven't theoretically maxed out their talent.
It takes a lot of money for small market organizations to retain their stars, and Indiana and Memphis know this is the cost of doing business even though neither club should worry about either of these two budding stars.
The past performance overpay
Green (four years, $100 million) and Middleton (three years, $102 million) were crucial cogs for championship teams, and neither Golden State nor Milwaukee were going to let age be the reason two guys who fit perfectly alongside MVP candidates leave for likely worse situations.
Good value but for what?
Johnson (four years, $108 million) and Kuzma (four years, $102 million) are two players who will earn their keep, but to what end for the Nets and Wizards, respectively? These two are overqualified role players who feel like they'll be moved for no other reason than they're on good deals for teams who are years away from competing.
Albatross before the ink even dries
Irving (three years, $126 million), Grant (five years, $160 million), and VanVleet (three years, $130 million) were the big winners, while also gluing themselves to their suitors. The Dallas Mavericks, Portland Trail Blazers, and Houston Rockets made these bold moves basically because they were out of options. I am supremely confident when I say that if those teams want to get off these bulky contracts, they'll be required to throw in a first-round draft pick to sweeten the pot.
The Blazers definitely made the most alarming choice, yet didn't have a better option to rebuild around Damian Lillard. I know the cap jump has teams feeling themselves, but that doesn't mean bad contracts don't exist.