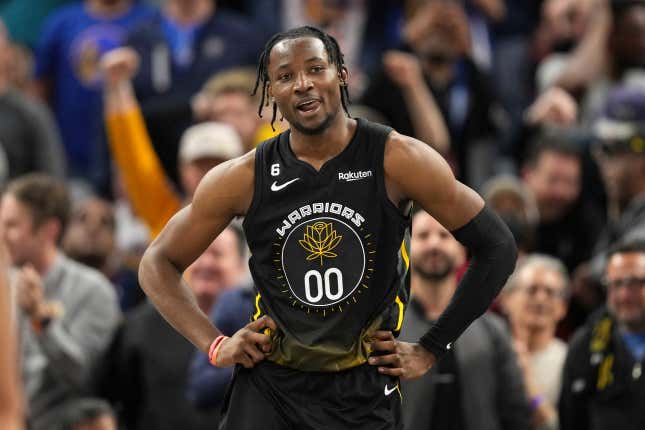 It is remarkable how quickly circumstances can change in sports. The NBA is no exception; we see it frequently across the league. The Golden State Warriors are a team who've witnessed how quickly things can go sour within a franchise. Upon being eliminated by the Los Angeles Lakers in the second round of the playoffs, it was rumored that Warriors forward Jonathan Kuminga would request a trade if he wasn't assured about playing time heading into next season. Now, the Warriors have taken it one step further. Reports are circulating about them making Kuminga available for a high draft pick in next week's draft.
Grant Hill looks to repeat Team USA's 2004 "success"
Kuminga isn't even 22 years old and showed so much promise and upside during the Warriors' unexpected run to another NBA championship last season. Remember, that was his rookie season in the NBA, and Kuminga played a part in winning a title. In Kuminga's second year, things took a turn as Kuminga fell into head coach Steve Kerr's doghouse. That isn't a tough feat to accomplish, as Kerr has a reputation for not having much patience for young players, especially when they come off as entitled.
That's the wrap pinned on Kuminga, especially after the alleged trade request. Whether he wants to be traded or not, talk of Kuminga's bad attitude floated around most of the season. Kuminga's minutes were reduced during this year's postseason run to where he only touched the court in garbage time for the most part. The word was out on Kuminga, and Kerr had seemingly seen enough. This even drove the team's leader, Stephen Curry, to speak up and send a verbal message to the team before Game 7 of the first round against Sacramento.
Draymond Green weighs in
Golden State's emotional leader, Draymond Green, broke down Curry's message on his podcast.
"He delivered such a powerful message," Green said. "He said, 'If you get on this bus, you are making a commitment to this team. I don't care how many minutes you play. I don't care if you don't play a single second. I don't care if it's points, rebounds, whatever it is. But if you get on this bus, you are saying, I am going to do whatever it takes, as far as my preparation goes, to win this game.'"
It's been speculated that Steph's message was directed mainly at Kuminga. It makes sense after hearing reports/rumors of him wanting a trade and being upset about playing time. James Wiseman fell out of favor with the team for much less and got shipped off to Detroit. If Kuminga really wants out, the Warriors will make it happen. With the draft right around the corner, it could happen sooner rather than later.