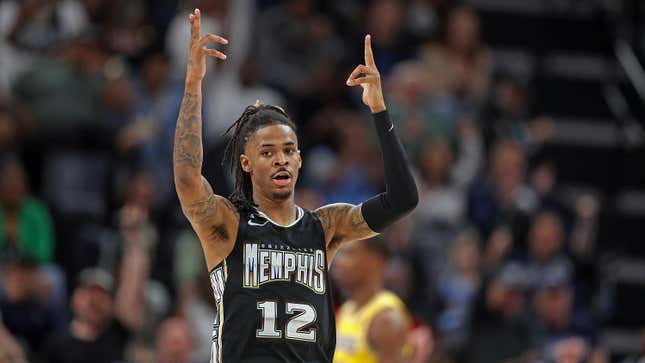 On Wednesday, after meeting with NBA Commissioner Adam Silver, Memphis Grizzlies point guard Ja Morant was suspended eight games by the league for conduct detrimental to the league.
Ja Morant or Zion Williamson: Who is having a worse offseason? | Agree to Disagree
In a press release, the NBA concluded that the gun Morant flashed in an IG Live on March 4 belonged to an acquaintance, and therefore couldn't prove that he carried it on team planes or facilities.
Here's the kicker. When Morant returns from his stay in a Florida treatment facility, his suspension will likely be over because the league is factoring in time missed. As of Wednesday, Morant's already been absent five games since being suspended two games by the Grizzlies before voluntarily stepping away following the video was posted on March 4. It wouldn't be entirely surprising if he returned following his eighth game away, a home matchup against the Dallas Mavericks.
Ja Morant is not a victim
Despite Morant's attempts to seek treatment related to his "unhealthy responses to stress," he's not a victim in this. The gun he pranced around with during an IG Live from a strip club was simply the last straw in what's been an escalating series of events for Morant.
Morant allegedly punched a teen after a pick-up basketball game and reportedly threatened him by flashing a Glock. (Morant told the police that he struck the boy in self-defense, and his agent said in a statement that Morant did not have a firearm during the event in question.)
He also allegedly rolled up to a high school volleyball game with his crew to confront another teenage girl who was smack-talking his little sister. (No charges were filed).

Following a home game against the Indiana Pacers on Jan. 29, players and team security reported a slow-moving SVU containing Morant trained red lasers from guns on them as it drove past. A Pacers team security guard told The Athletic, "That's 100 percent a gun."
"We felt we were in grave danger," one person who was present told the outlet.

The incident was serious enough that the NBA investigated.
Where there's smoke there's fire. Ja Morant's journey from an unknown mid-major starter to one of the preeminent point guards in the NBA has been a meteoric rise. However, during that ascent, it never registered that the newfound fame brought with it a higher level of scrutiny, standard of behavior, and decorum.

If anything, the NBA let Morant off easy.