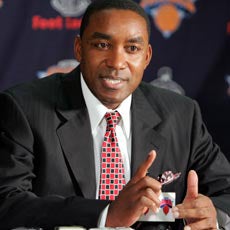 Well, it's a beautiful time of the year, because not only is there a full slate of NBA games tonight, but one of them involves ... the Knicks! Yep, Isiah's boys tip off tonight in the strangely disappointing locale of Memphis, as they face the Grizzlies. Of all the games tonight, we're most intrigued by this one, because the Knicks are going to be a beautiful thing to watch all season.
Let's just remind ourselves, for posterity, of who they're starting tonight: Stephon Marbury — if his cheap shoes don't destroy his feet — Steve Francis, Channing Frye, Quentin Richardson and Eddy Curry. You could not make that up. After waiving Jalen Rose last week, the Knicks appear to be in unique position to make the suddenly frightening-looking Bulls even more potent next year. Though we live in New York, we don't root for New York sports teams, but we love being able to watch the Knicks. It's like watching Faces Of Death every night. And now Isiah is on the bench! We can't wait. We honestly cannot wait.
Enjoy the games. All we need it Isiah to trip and fall while pacing the sideline, and it'll be just perfect.
(UPDATE: Also, it's probably the last opener in Seattle. Poor Sonics fans.)