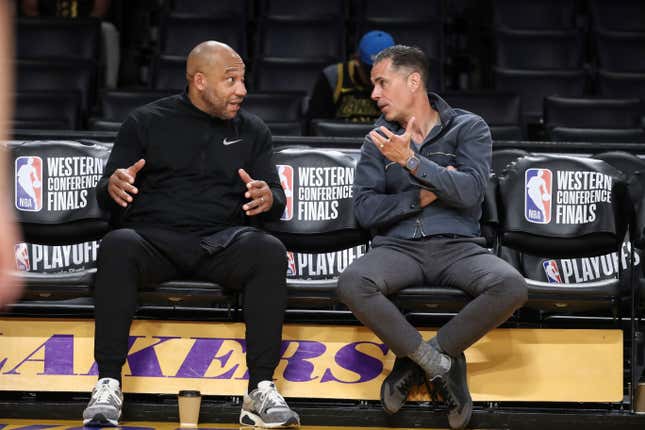 Remember that Baxter Holmes' ESPN report about the Los Angeles Lakers from four years ago? News of it has been floating around for months before its publication. Holmes made an appearance on Zach Lowe's podcast in the aftermath of the world reading what he uncovered about Magic Johnson, the Rambis and Buss families, and Rob Pelinka. This is Holmes' quote on his original tip that led to the bombshell report.
"I started on this story about a year ago, Holmes said on The Lowe Post. "After Sports Illustrated did [an expose] on the Dallas Mavericks and the inner workings of their culture which were troubling, a source reached out to me, or I maybe heard from a couple of sources, they said 'if you wanna take a look inside a culture that's troubling, take a look at the Lakers.'"
The Miami Heat are one of the great underdog stories in NBA history | Keep it a Buck(et)
Those calls came in response to a story that reported former Mavericks beat writer Earl Sneed remained employed by the organization after being arrested at the facility on assault charges. (Editor's note: Sneed pleaded guilty to misdemeanor charges of family violence assault and interference with emergency request. He allegedly assaulted a female employee two years later.)

Nothing that egregious was in Holmes' report, but what it revealed was an organization that was the opposite of the word in Tinsel Town. That season the Lakers missed the postseason, and did so again in 2021-22. This season, they made it to the Western Conference Finals.

Lakers' run fueled by February's roster overhaul
This run was made possible by the Lakers executing a Herculean roster overhaul in February. A much-needed influx of talent allowed them to go on the necessary late-season run to avoid missing for the third time with LeBron James on the roster. The 2022-23 season for the Lakers was able to go from pumpkin to carriage, because of true organization from the Lakers' front office, and patience.
Holmes' report confirmed some of what Magic Johnson had said eight days earlier on ESPN's First Take. There were too many influential and powerful voices with their hands on the Lakers' on-court product. During the 2021-22 season, it appeared that the problem was still present. It was reported that Kurt Rambis was heavily involved with the coaching staff including sitting in on meetings.

One of the first signs of Laker competence came after Darvin Ham was hired as head coach. His conditions for accepting the position were that he had to have the full authority that is supposed to come with the position. Per NBA Insider Marc Stein, there would be no more Rambis freely sitting in the meetings and offering his two cents. Also, unlike Frank Vogel before him, Ham would have complete autonomy in assembling his staff.

Then came the decision on what to do with Russell Westbrook's expiring contract. There were debates throughout NBA media about a potential deal with the Indiana Pacers to acquire Buddy Hield and/or Myles Turner, and them receiving the Lakers' only two remaining tradeable first-round draft picks this decade along with the Westbrook contract.

According to a report from The Athletic it was seriously considered. However, In order for Pelinka to make this kind of seismic deal, he wanted the Lakers' entire braintrust in favor of it including their new head coach. Consensus could not be reached, and Pelinka elected to not go through with the deal. The Lakers also made some inquiries into acquiring Kyrie Irving from the Brooklyn Nets, but nothing materialized. Soldiering forward with the same key players was certainly a far more practical decision than the Lakers gutting their team to acquire Westbrook in the summer of 2021.

A painful start to the season
While the decision to hold the line was the right call, it brought forth a lot of pain to start the season. A 2-10 start, and another season of the Lakers hovering around the play-in tournament with jokes being hurled at the franchise from all corners of sports and social media.
In Pelinka and Buss' defense though, remaining patient until past the halfway point of the season while eating that daily criticism by the spoonful, is a sign of good leadership. Going through a thorough process to make the best possible decision and riding out the result is the only way for leaders to advance their organizations.

Then in late January, they were able to acquire Rui Hachimura from the Washington Wizards for Kendrick Nunn and three second-round picks. They brought in this 2019 ninth-overall pick and it cost them none of their top assets.

Was Hachimura worth three second-rounders? If the Lakers front office believed that one of those picks will turn into Nikola Jokić, then no. Being that Jokić is making a case to be one of the 20 best NBA players of all time and rising, it's fairly safe to say that kind of lightning won't strike twice. Instead, for some potential players who probably wouldn't have been on the roster after training camp, the Lakers received a player who turned into a top-four contributor on a team that went to the Western Conference Finals.

The deadline deal to acquire D'Angelo Russell, Jarred Vanderbilt, and Malik Beasley was not nearly the same home run even though it provided some necessary depth. Vanderbilt and Russell had their problems in the playoffs — Beasley barely played — but it only cost them the 2027 pick, and it's top-four protected.

Only 4 Lakers are under contract next season, and LeBron's future is in the air
Only four players for the Lakers are currently under contract for next season — James, Anthony Davis, Vanderbilt, and Max Christie. That giant hold that Westbrook's contract had on their salary cap is gone, but soon more big decisions must be made. The entire NBA saw Austin Reaves and Hachimura in the playoffs. A couple of scorers with size who can be counted on to play competitive and intelligent defense are going to command quite a raise this offseason.

Also, the Lakers still need more 3-point shooters, another on-ball creator, and also there is a chance that James does not return for a 21st season. After all, that is 21 regular seasons of NBA basketball minutes and enough playoff minutes to add on another three.

While the franchise has a lot of uncertainty to sift through, for now it appears to no longer be shrouded in instability and incompetence. The roles are defined clearly enough so that decisions can be made in an organized and thoughtful manner.

It took a while to get here, and maybe the Lakers are a losing season away from more reports of meddling. For right now though, Pelinka, Buss, and everyone involved in turning the tankard away from the trash heap deserves to be commended for their work.

Yes, it didn't result in a championship, but sleeping during the offseason has to be much more restful after getting swept in the Western Conference Finals, as opposed to finishing the regular season winning 35 games or less.