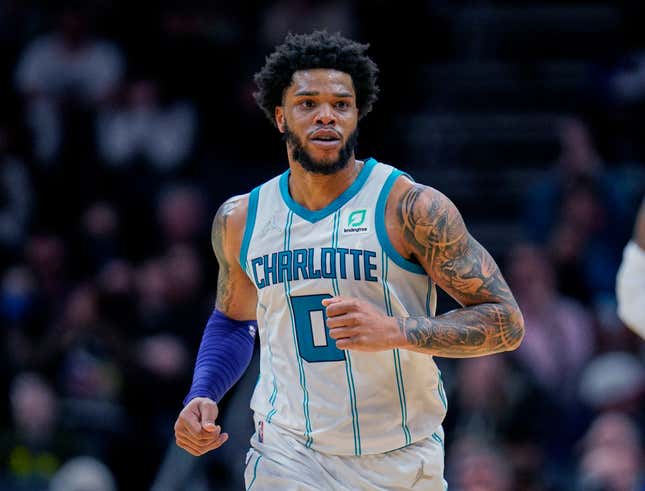 The NBA on Friday announced that Charlotte Hornets restricted free agent forward Miles Bridges — who pleaded no contest to a felony count of injuring a child's parent in exchange for three years probation and no jail time after allegedly assaulting his girlfriend in front of their two children — will serve a 30-game suspension for his actions, with the league giving him credit for 20 games served. Meaning, whichever franchise decides to compromise its morals for a springy wing who can get you 20 points a night, will be without said free-agent addition for all of 10 games next year.
Hey Shannon Sharpe, the Memphis Grizzlies are the NBA's Kings of the Ring
I have questions...
I have so many questions, the most pressing of which is: How can you serve 20 games of a suspension if you're not on an NBA roster?
Other than LeBron James, nobody was willing to go near the radioactive four-year-hasn't-been-able-to-start-his-fifth-year pro during the 2022 season because of pending litigation and the PR hit they'd take for overlooking his off-court shit.
Last summer, the team and Bridges allowed his qualifying offer to expire, making him a restricted free agent. I'd say, if you can't get anyone to hire you, and have to sit out a season because of your own actions, the league shouldn't bend over backward to retrofit the punishment. Am I crazy? Am I the only one who gives a shit about decorum? Image? Integrity?
Here's another pertinent question in my line of many: Haven't enough rich people been given breaks for being shitty people this week? Congratulations, Miles, you and Dan Snyder can toast at whichever bar allows you to show your faces.
And my final question is for Adam Silver. Umm, what the fuck are you doing? I mean I know what you were doing dropping this news at 5 p.m. on a Friday, but I thought you were a conscious commissioner.