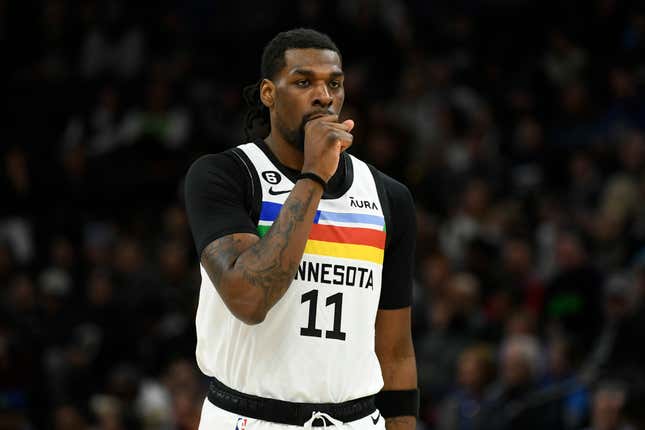 Evolve, or die. College basketball big men, beware.
On Sunday, the Minnesota Timberwolves agreed with Naz Reid on a new three-year, $42 million contract that will keep the center in Minneapolis for a little while longer. At first look, an NBA team keeping a 23-year-old, 6-foot-9, 264-pound backup who just came off his best season — 11.5 points and 4.9 rebounds — around isn't newsworthy. But it's very coincidental given that it occurred days after an NBA Draft that further proved that big men like Reid are what the league now covets instead of traditional college centers who didn't hear their names called last week.

Is Texas or Florida State a bigger national title contender? | Agree to Disagree
Drew Timme was a three-time All-American at Gonzaga who averaged 21.2 points and 7.5 rebounds his senior year. Adama Sanogo was named the NCAA Tournament's Most Outstanding Player for UConn. Oscar Tshiebwe was the Naismith Player of the Year in 2021 at Kentucky. Neither one of these college basketball forces were drafted.
Timme has an Exhibit 10 deal — a one-year, minimum salary contract with no other bonuses — with the Milwaukee Bucks. Sanogo has a two-way contract with the Chicago Bulls, while Tshiebwe also has one with the Indiana Pacers.

Like Reid, all three went undrafted. But, unlike Reid, all three don't have the kind of game that translates to the NBA like the former LSU star that left school after his freshman year to sign a two-way deal with Minnesota.
Reid's mobility, lateral quickness, and shooting allow him to be a floor spacer — at times — on the offensive end, while still being able to defend the rim, and the perimeter in pick-and-roll action. Being big and tall isn't enough to make it in the NBA anymore. Thinking your favorite college center will succeed at the next level just because he's a good rebounder and has a few post moves is a pipe dream. If they can't defend 1-through-5 they're cooked, which is why Timme, Sanogo, and Tshiebwe are in their current positions.

A few years ago, Luka Garza was in the same spot. After being the Big Ten's Player of the Year in 2020 and 2021, and Sporting News' first repeat winner as Player of the Year since Michael Jordan, the 6-foot-10, 243-pound center out of Iowa was eight picks away from not being selected in the 2021 NBA Draft. Since then, he's bounced around at the end of the bench for the Detroit Pistons and the Timberwolves — go figure — or has been in the G League working on his game. Garza was foreshadowing the path that Timme, Sanogo, and Tshiebwe's careers might take, while also signaling that North Carolina's Armando Bacot is up next to follow in their unfortunate footsteps.
When the Philadelphia 76ers took Jahlil Okafor with the No. 3 overall pick in 2015, it made sense as the Duke center was arguably the best player in college basketball during his freshman year as he was coming off a national championship. Okafor proved to be a relic, as his low-post game — along with some other things — wasn't valued in the league anymore, making him a glaring example that a drastic shift had occurred.
Basketball is still basketball as it will always be a game in which being tall is important. But the value of the "big man" has changed. And as we've seen over the last few days, "bigs" have two choices: adapt or be a collegiate memory.