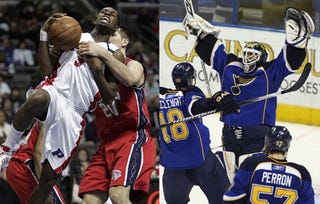 This weekend could have been a furious playoff dash to cap off both the pro basketball and hockey seasons, but all the playoffs spots were wrapped up last night, so never mind all that.
Oh, sure there is still some jockeying for position left to be done, but the 16 teams who get to play extra games have already been decided in both the NBA and NHL. Thanks goodnees for that, too, because I think we've all had just about enough of the regular season. I know it's not groundbreaking or controversial to complain that the regular seasons are boring and pointless, but it's been weeks since we've had a reason to get riled up about anything in either sport that was Twitter related. Hoops fans are just biding their time until the LeBron-Kobe Finals matchup and hockey fans are just waiting for the first sudden death double overtime game to remind themselves what it means to be alive. Those will be good times, right?
Meanwhile, we play out the string of meaningless games for a few more days. Enjoy!
St. Louis beats Columbus, clinches playoff spot [Kansas City Star]
Pistons clinch playoff spot [Detroit Free Press]