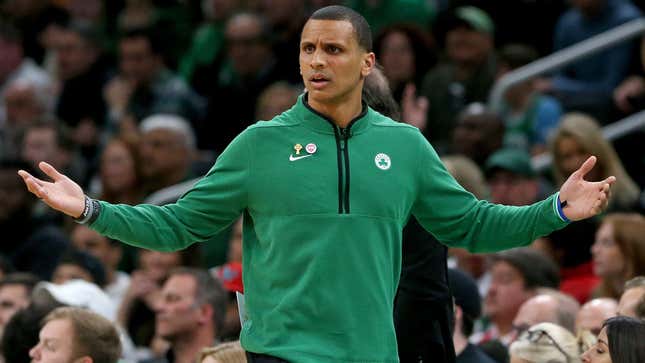 The use of timeouts in one-possession games is a contentious philosophical debate in NBA circles. Each end-of-game episode presents coaches with an ambiguous multiple-choice equation. Timeouts have an expiration date, but that hasn't stopped coaches from attempting to carry them into the next game or to the next jobs. And last night's Celtics-Sixers game is a perfect example of doing it wrong.

Does the NBA need to fix the All Star Game?
Just call the timeout, Joe
The Boston Celtics nearly squashed Philadelphia's hopes of advancing to the Eastern Conference Finals on two separate last-second offensive possessions in Game 4. Both times, rookie head coach Joe Mazzulla opted against taking a timeout, gathering his offense, and instead trusted his team to ad-lib amid the chaos. At the end of regulation, Tatum kicked out to Marcus Smart for a bricked three.
Trailing by a bucket in the final seconds of overtime, Jayson Tatum's beeline into the paint punctured the Sixers' defense. Enough help defenders caved in on Tatum, again resulting in him kicking it to Marcus Smart for a triple that was released after the clock expired.
Not only did Mazzulla wasting two timeouts cost Boston a road victory that would have wrapped this series in a bow for the Celtics, but Mike Budenholzer's gawking while his Bucks were stuck in deer-in-headlights mode in during the Heat's 13-0 run in Game 4 and again on the final possession of Game 5 cost him his job.
With their season on the line, down two, Milwaukee didn't even get up a shot until the offseason began. Milwaukee's season ending while Grayson Allen skipped through the paint is every coach's worst nightmare, but for Budenholzer it was a reality that played a part in his firing. Compared to the clumsy Grayson Allen, Smart has had his moments, but if my life depended on one shot, he's the fourth Celtic behind Tatum, Jaylen Brown, and Derrick White or Malcolm Brogdon I'd want in that high-stakes scenario.
Timeouts are your friends
The strategy is advantageous if the offense can catch the defense flat-footed, but on Sunday afternoon, Boston wasted valuable seconds advancing the ball up the floor before initiating their offense in the final 4.5 seconds. Having your five-man lineup fly by the seat of their pants is liable to turn into an emergency landing. A quick breather would have been a perfect time to iron out the process and dial up a go-to ATO (after timeout) play like the one Mazzulla borrowed from Brad Stevens on Feb. 25.
In a late February matchup against Philly, Mazzulla devised a Rembrandt on the sideline which had Tatum as the recipient of a pocket pass from Smart Smart. Tatum sank the dagger three and his explanation for why Mazzulla called the timeout is telling.

"We knew the play. We just called the time-out to make sure we got the right guys in the right spots," Tatum disclosed.
Mazzulla had also run the same play against Cleveland on Nov. 20 to send the score into overtime.
Successful ATOs put the offense in the best position to score on any given possession. The savviest sideline tacticians can outmaneuver whatever booby traps the opposing defense can throw in their path. Hands-on coaches prefer to take a beat and put the ball in their star's hands under ideal conditions instead of rolling the dice from the sidelines.
By calling a timeout, NBA rules stipulate the ball must advance to the centerline — saving valuable time. The defense also has an opportunity to sub in their best stoppers and set their defense, but this season has supplied a bevy of pro-ATO propaganda.
Look what Eric Spoelstra was able to do with 2.3 seconds and a sharpie. Jimmy Butler still had to make the tough shot to get Miami to overtime, but at least Spoelstra helped him get a clean look at the rim without taking a single dribble.
Darvin Ham touched the "no-timeout" stove in a mid-January contest against the Sixers and got burned by a discombobulated offensive sequence. By Game 4 of L.A.'s six-game series against Memphis, Ham was an ATO convert.
On Sunday, Mazzulla's inaction had the opposite effect on Boston. Monday morning quarterbacking makes it more cut-and-dry, but big-time coaches earn their keep in those moments. ATO plays aren't a sure thing by any means, but it's better to be safe than sorry.