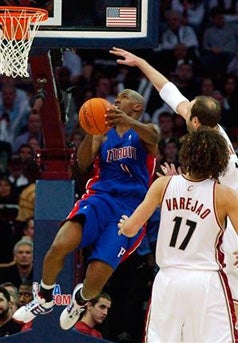 Notes on Thursday's games in the National Basketball Association ...
• Mr. Big Shot, Who Do You Think You Are? The Cavaliers and the Pistons hadn't played each other since Game 7 of their second-round playoff series last season, and sorry Cleveland fans, Thursday's result was pretty much the same. Chauncey Billups went 1-for-9 from the floor over the first three quarters, then scored 12 points in the fourth to lead Detroit to an 87-71 win. Billips finished with 17 points, while LeBron James had 26 for Cleveland.
• King Abdicates. Ron Artest participated in pre-game warmups, but then removed himself from the lineup and watched the game from the training room — saying he had sore knees — as the Wizards beat the Kings 126-119 on Thursday. Antawn Jamison had 33 points and 13 rebounds, and Gilbert Arenas had 30 points as Washington won its fourth straight. Wait ... Artest has knee problems? That's the first we've heard of it.
• Carmelo Won't Appeal. Realizing perhaps that the sooner he gets his 15-game suspension over with, the sooner he gets to play with Allen Iverson, Carmelo Anthony announced that he won't appeal his punishment set forth by the NBA. Meanwhile, snow is keeping Iverson out of Denver; but he may make his Nuggets debut tonight against the Kings if his charter flight can get through. Hey, it's tough in Denver; the Broncos had to carpool to practice Wednesday.