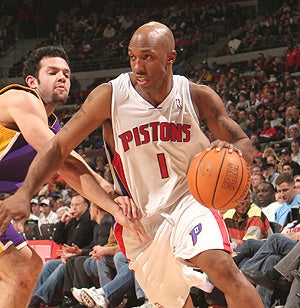 Notes on Thursday's games in the National Basketball Association ...
• We Welcome Our New Detroit Pistons Overlords. He's been an All-Star five times, but Chris Webber has never won a single title, team-wise, at any level (paging Steve Fisher!). Could this be the year? These days he's even overshadowing Kobe Bryant, as Webber's 18 points and 11 rebounds helped the Pistons beat the Lakers 93-78 on Thursday; Detroit's fifth straight win. The Pistons are 9-2 since Webber arrived. "(Webber is) a phenomenal passer," Bryant (18 points, eight turnovers) said. "It's fun to watch him, unless you are actually trying to stop him. When he was with Sacramento, he drove us crazy with those passes." Tayshaun Prince had 20 points for the Pistons.
• Land Of Dreams (New Orleans Wins The War). The Hornets scoff at your single overtimes! On Thursday they beat the Bucks 109-101 in double overtime, as Desmond Mason scored 24 points; NOOCH's second straight overtime win. Wednesday New Orleans took a 114-112 win over the Nuggets in single overtime.
• King Me. After a rough January, February is the Month of Kings, apparently. Kevin Martin (29 points) and Mike Bibby (21) led Sacramento past Chicago 86-77 on Thursday, as Sacramento moved within two games of the Western Conference's eighth and final playoff spot.
• Oops! I Did It Again. Attention Nuggets fans: Today Allen Iverson is ... injured. Please check tomorrow for your Allen Iverson injury update. It's a swollen right ankle (suffered in a loss to the Hornets on Wednesday), and he probably won't play in the All-Star game either. Thank you.
• The Polls Are Closed (And Mark Blount Was Robbed!). Ladies and gentlemen, your NBA 3-Point Shootout contestants.