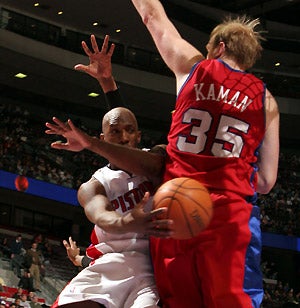 Notes on Monday's games in the National Basketball Association ...
• Everybody Loves Chris. They're starting to get excited about the Pistons in Detroit (and by the way, doesn't Dave D'Alessandro's mug shot look lovely this morning?). Chris Webber seems to have injected the team with The Right Stuff, Detroit beating the Clippers 92-74 on Monday behind Webber's 19 points and nine rebounds. The Pistons are 11-2 since Webber joined the starting lineup.
• Meanwhile, At The Pepsi Center ... Brand new All-Star Carmelo Anthony and J.R. Smith scored 28 points apiece to lead the Nuggets past the Warriors 123-111 on Monday, as Golden State played without leading scorer Baron Davis (knee injury). It was the best combined output by Anthony and Smith since they were suspended in the Madison Square Center brawl in December.
• Not That There's Anything Wrong With That. Well, despite owner Mark Cuban's advice, no one on the Mavericks has admitted to being gay. They did win however, as Dirk Nowitzki had 24 points and 11 rebounds to lead a 106-89 victory over the 76ers.

• All That Jazz. Seriously, are the Hawks even trying? OK, they beat Golden State in a close one on Sunday, but Monday's 102-76 loss to the Jazz was kind of sad. Utah is 5-1 since Carlos Boozer went out with a leg injury. Go figure.