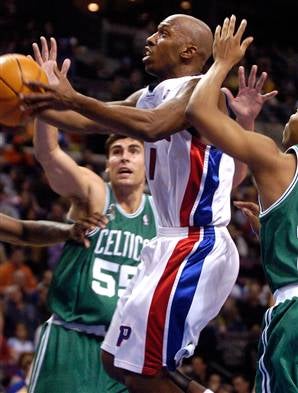 Notes from Tuesday's games in the National Basketball Association ...
• Oh Danny Boy, The Pipes, The Pipes Are Callin' ... . It really is kind of disheartening to watch the Celtics these days; it's like watching a water-logged moth try to escape from the sink. Doc Rivers seems to be out of answers — although LeBron James could probably whip them into shape! — and despair reigns. On Tuesday, Rivers actually said this following Detroit's 109-102 win over Boston: "We really didn't have a chance. We played a better team tonight. They had some matchup advantages, and they went right at us." Yikes. Boston has lost 15 straight, extending the worst losing streak in franchise history. Chauncey Billups led Detroit with 24 points.
• Way To Go, Big Boss Horse. If you're like us, you have the feeling that the Suns will never lose again, no matter who is out of the lineup. Steve Nash is out with an injured shoulder, so Amare Stoudemire went for 36 points and Leandro Barbosa had 25 in a 109-102 win over Portland.
• Picking Up The Slack For The Big Man. The Rockets are 15-6 since Yao Ming went down with a broken leg, with Tracy McGrady scoring 33 points and passing for eight assists in a 98-90 win over Memphis. Pau Gasol led Memphis with 30 points and 13 rebounds.
• LA Story. Hey, weren't the Clippers, at one point this season, good? They're losing to the Knicks now? (102-90).