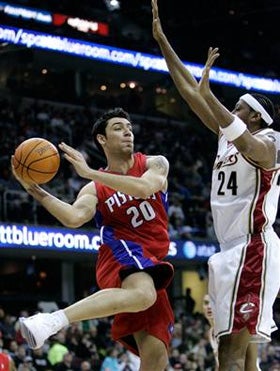 Notes on Sunday's games in the National Basketball Association ...
• Money Over Bullshit. Rasheed Wallace listens to Nas? According to AP, yep. "Rasheed Wallace stepped out of the shower area and reset the track on the portable stereo in Detroit's locker room. Seconds later, he swayed to the booming beat and began to rap. 'Afraid of none of you cowards,' he shouted, spitting out lyrics along with hip hop star Nas." Not the most relevant of leads ... we would have preferred something on Chris Webber's musical tastes. Chauncey Billups scored 18 points, and Webber and Wallace had 15 each as Detroit beat Cleveland 90-78. The Pistons are the only team in the Eastern Conference with a winning road record.
• They're Not Booing, They're Saying LUE! Tyronn Lue hit a 23-foot jumper at the buzzer to give the Hawks a 101-99 overtime win over the Nets, the fifth victory in seven games for Atlanta, 3 1/2 games behind the Heat in the race for the final Eastern Conference playoff spot. Joe Johnson scored 37 points for the Hawks.
• Raptors Stalk Atlantic Title. Meanwhile Toronto stopped the Clippers 122-110, and with the Hawks' win moved three games ahead of New Jersey in the Atlantic Division. Chris Bosh had 27 points for the Raptors.