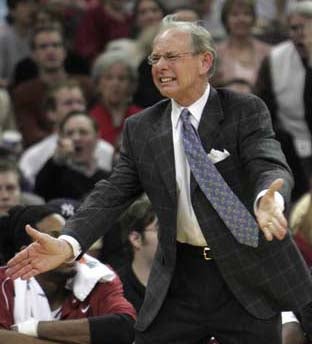 The NBA opened its regular season on Tuesday with two games ... hardly enough to action to get our basketball engines revved. But they did involve the Lakers and Heat, so let's examine Day One with a little tiny NBA Roundup.
• There's Got To Be A Morning After. It was a gala evening for the Miami Heat, as they accepted their championship rings and had their world title banner hoised to the rafters. There was also a video, prizes, games for the kids ... what? We're supposed to play a game now? Suffice it to say, Bulls 108, Heat 66.
• We Hear Nicholson Also Skipped This One. Are we witnessing the beginning of the Lamar Odom era? The dawn of the Andrew Bynum epoch? Odom's 34 points lead Lakers over Suns, 114-106 (please come back, Kobe).
• Knicks Remain Undefeated. Meanwhile, Nate Robinson is praising coach Isiah Thomas in his blog, reporting that the Knicks' coach "is talking about the playoffs, putting a lot of confidence in us." In other news, we're talking about totally making out with Scarlett Johansson.