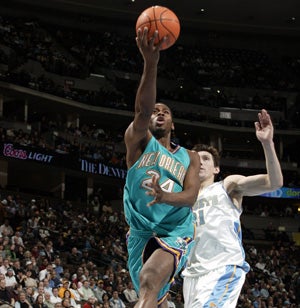 Notes on Wednesday's games in the National Basketball Association ...
• NOOCH prevails. As TrueHoop points out this morning, everyone now seems to know that John Amaechi is gay ... except for NBA.com, of course. But in Denver, they've got their own problems. Allen Iverson's return for the Nuggets was ruined by the Hornets' Desmond Mason, whose put-back at the buzzer gave NOOCH a 114-112 win over Denver in OT on Wednesday. The Nuggets may have Iverson back, but they were missing Marcus Camby (strained groin). Carmelo Anthony had 27 points for Denver.
• Sweet Little 16. The Celtics continue to explore unchartered waters, losing their 16th straight on Wednesday, 91-79, to the Heat. Dwyane Wade had 30 points and nine assists, and Shaquille O'Neal scored nine points in 25 minutes.
• Sonic Nation. Big news for Seattle, as the Sonics broke their 15-game road losing streak, 103-102 over the Pacers. Ray Allen had 33 points and nine assists. Rookie Andre Brown scored with 23 seconds left for the deciding points. The Pacers were without Jermaine O'Neal (bruised knee).
• The Attack Of Sgt. Carter. Vince Carter's 22 points allowed the Nets to break their four-game losing streak, 87-85 over the Hawks.