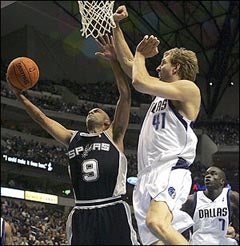 Taking a look at Thursday's games in the National Basketball Association:
• Spur Of The Moment. Why do we get the feeling this is going to be a long season for the Mavericks? Tony Parker has a sprained ankle, Tim Duncan had an off night and Dallas owner Mark Cuban has been hit with the seatbelt rule (actually, that's good for everyone). Yet the Spurs still managed a 97-91 win over the Mavs on Thursday. Oh heck, relax everyone, it's still early.
• Wait ... "Clippers," "Nail-biter" ... Nope, We've Got Nuthin'. What's with all the ejections lately? The Nuggets' Carmelo Anthony was tossed after drawing two technicals in the third quarter, and Denver went on to lose to the Clippers 96-95. Sam Cassell scored 35 points and hit a pair of free throws with 12 seconds remaining for Los Angeles.
• We Are The Knights Who Say Yi. Since there were only two games on Thursday, we go an extra item to bring you the happy news that the Glorious And Happy Chinese People's Republic has given permission for their 6-foot-11 hoop star, Yi Jianlian, to enter the 2007 NBA draft. So not only will Yi soon have the opportunity to become the next Yao Ming, but he will also be able to type "Tibet" into his Google search engine and not be immediately arrested.