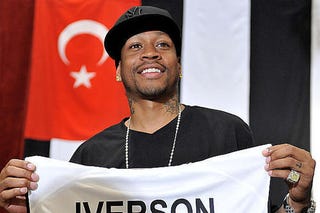 Want to see how far Allen Iverson's fallen? NBA TV has just what you need! At 3:30 p.m., they'll broadcast his second game with Turkish team Besiktas Cola Turka. They're playing defending TBL champion Fenerbahce Ulker from Istanbul.
Turkish prison jokes, way too easy. Playing Turkish basketball as Iverson's prison, way too sad. Chris Webber color-guying the game, the saddest thing in the history of people.
Video from the Philadelphia Inquirer...