It seems quaint now, bitching over NBC's lack of live Olympic broadcasts, when the International Paralympic Committee has its own complaints about the network's coverage: zero live TV, and what little there was shunted to the little-watched NBC Sports Network. And now the IPC president is openly wondering why NBC should ever get the Paralympic Games again.
"Will we speak to NBC? Let's hope that NBC are proposing to speak to us," IPC president Philip Craven said. "Why not? We're waiting for them to knock on our door. And if we find our values don't fit, we'll have to go somewhere else."
NBC's Paralympic coverage, for the 11-day event that wrapped up two days ago, consisted of this: four one-hour highlight show broadcasts on NBCSN, and a 90-minute games recap that won't air until next Sunday. That's a grand total of five-and-a-half hours, compared to nightly coverage in Japan, 100 hours of broadcasts in Australia, and a whopping 400 hours in the U.K., where the opening and closing ceremonies drew record ratings.
It's hard to tag this one #NBCFail, because even the least coverage NBC was able to offer was more than the alternative. The IPC was unable to sell the Paralympic rights in the U.S. TV market, and the USOC stepped in to purchase them. The USOC struck its own deal with NBC, getting those 5.5 hours (that's four more hours of coverage than the Paralympics got here in 2008) and limited online streaming from YouTube.
Aimee Mullins, the chef de mission for the U.S. Paralympic Team, says the lack of TV coverage is no longer the deal-breaker it used to be.
"Of course I would love for more live coverage while the Games is happening, but I am less distressed about it than I was in past Paralympic years because the glory of the internet means that people aren't being deterred by the fact that it's not on NBC – they're going to the internet and watching it anyway."
G/O Media may get a commission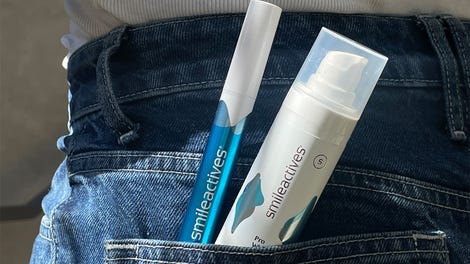 58% off
Whitening Powerhouse Pen & Gel Duo
It's a tough situation. No U.S. broadcaster wants to bid for the rights, because too few viewers care to make it profitable. In which case NBC is just being charitable, but isn't patronizing the Paralympics exactly what you're not supposed to do? So there's no way to make money off of them, no way to respectfully give them some scraps of air time—do the Paralympics have to be broadcast in markets that don't want them? You know what? Let's just get back to blaming NBC, before we get into some uncomfortable questions here.