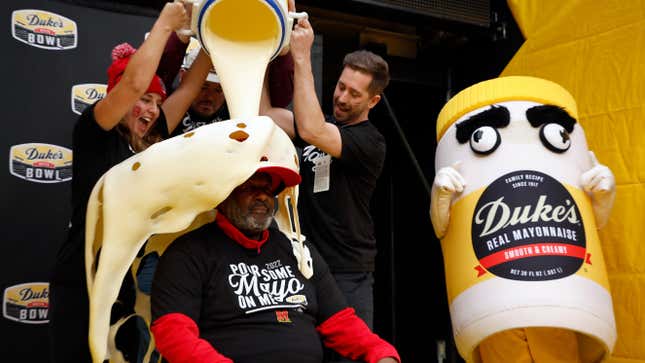 For those who turned on the North Carolina State radio broadcast to listen to a friendly voice narrate a bowl game, with a silly sponsorship, against a former conference foe — Maryland — who better to do it than Gary Hahn? He is in his fourth decade as the Wolfpacks' play-by-play announcer, and surely he could get through this day without embarrassing himself, the university, the sponsors, and the people of Raleigh. It turns out that a jar of mayonnaise would have been a better choice, because at least it's unable to say anything racist.

How running an NFL team is like running a restaurant | Chef Emeril Lagasse
There's no room for racism in bowl games
What I heard during the holiday season from North Carolina State's Hahn, made my head slump and begin to shake. Before giving listeners the current score of the Sun Bowl he did a bit of editorializing when he said "Amongst all the illegal aliens down in El Paso [Texas], it's UCLA 14, Pittsburgh 6."

Hahn's disgusting remarks about undocumented immigrants during the game made the various mayonnaise concoctions shown during the broadcast look like a perfectly marbled ribeye. What was supposed to be a simple score update, turned into Hahn being suspended indefinitely.
Let me say this: I appreciate local sports broadcasters. Before I started the third grade, I had probably heard the call of Michael Jordan's Game 5 game-winning shot against the Cleveland Cavaliers 100 times, but I was 31 years old before I knew that Verne Lundquist and Hubie Brown did the national call for that game. I can't look at that Jordan fist pump without hearing Jim Durham and Johnny "Red" Kerr screaming with joy.
Obviously, Hahn's statement was an awful one to glibly make about human beings. It was a hateful generalization of people in a city — where a "state of emergency" was declared and migrants are currently being held in its convention center — on the Mexican/American border.
Also, if he is supposed to be speaking to the locals, I'm not quite sure to what large audience in Raleigh he was directing that statement. Without delving too deeply into politics, an anti-immigrant stance is not a winning one in that part of America.

Sports announcers like Hahn have a responsibility to all fans
When announcers articulate over a microphone what a fan base is collectively experiencing, it is a beautiful moment in which nothing on this planet feels more right than sports. Fans were in their feelings just last month when they heard Argentina-born Andrés Cantor shout towards the heavens, with tears in eyes, that his native country was champion of the world while clutching a member of the country's 1986 championship team, Claudio Borghi.

And that was on an American broadcast.

But, when a local celebrity arrogantly claims those airwaves to spew bigotry, the charm of the broadcast tarnishes rather quickly. It happened with Thom Brennaman back in 2020 when he used a gay slur on a Cincinnati Reds broadcast. While these broadcasts aren't national, that doesn't give the person trusted to guide fans through the competition the license to exclude certain members of the community.

Yes, the broadcast is for locals, but the personalities don't get to unilaterally decide which locals they prefer to address. A lot of people live in Raleigh, and NC State has the largest student enrollment in North Carolina. The excited NC State fans — who didn't get to enjoy last season's bowl appearance because of a COVID outbreak at UCLA — tuned into that broadcast to listen to a familiar voice narrate a pleasant end to the season. It wasn't a national championship, but it's still the Mayo Bowl. It's the quirky one with the viral moments that people pay attention to because mayonnaise is dumped on the winning coach instead of Gatorade.

It's supposed to provide good feelings for everyone involved except for those of us that refuse to use that viscous blob as a condiment, and others who made an unsuccessful wager. A fun afternoon during the holidays, turned depressing by a man who couldn't let an opportunity pass to poke fun at one of the most vulnerable groups of people in the world.
The opposite of everything joyful about the local sports broadcaster.