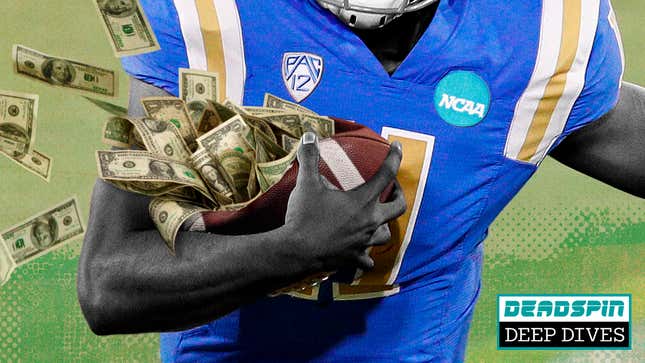 When you give someone an inch to placate their desire for a mile, don't be surprised when they still ask for a mile. For college football players and other student-athletes, name, image, and likeness deals were not the final step in fixing the flawed system that is college athletics, but rather a first stride toward meaningful and deserved compensation.
However, most conversations about college football this preseason have skewed negatively as the usual mix of hype for a new year was pushed out by more apocalyptic discourse. Whether it's conference realignments, gambling scandals (involving players or coaches), NIL money, or the transfer portal, everybody — from the administrators to the players — is at fault.
While some of the rancor is justified, there's a distinct difference between college officials destroying traditions and rivalries under the guise of financial security, and an unpaid workforce forced to fend for themselves because they don't actually have financial security.
UCLA backup quarterback Chase Griffin said the pushback aimed at the players is misguided, and not too different from other criticisms levied in previous instances where barriers have been broken.
"I think anytime you've seen — in society in general, but especially in sports — anything that promotes equity and progress within the sports industry, there then have been people who've said, 'This is going to be the downfall,'" Griffin told Deadspin.
"With the integration of major professional sports and Jackie Robinson, people said people weren't going to watch baseball anymore — the sport grew. When it came to Title IX, people said that giving women scholarships would be the end of male sports. Ann Meyers Drysdale was the first college athlete, female, on scholarship, and college sports grew as a result of it."
That same mindset has been applied to NIL money and the transfer portal, according to Griffin, but that hasn't stopped media outlets from paying billions of dollars for TV rights or prevented fans from watching.
Jason Stahl, head of the College Football Players Association, said the baseline for this narrative comes from the folks in charge who can't shake this idea that they're glorified guidance counselors to these players.
"There is an infantilization of college athletes by those in the administrative class, whether it be the conferences, the NCAA, or the member institutions. Those stakeholders look at college athletes, and especially college football players, as kids, right?" Stahl said. "'They're kids. We know what's best for them. We will tell them what's best for them. If they step out of line in any shape or form, boy, we really want to put them back in their place.'"
That attitude persists among the administrative class, as is evident by NCAA President Charlie Baker's preference for solutions to course correct NIL money and the transfer portal. It's a game of Tug O' War, with one side anchored in the past, and the other left trying to find a way forward with little help, and in some cases, active hindrance.
How college football got to this point
The truncated version of the NIL quandary is as follows: The NCAA refuses to pay college athletes who generate gobs of revenue, so as a concession it allowed players to profit off their name, image, and likeness, but not without a fight. Most notable among the NCAA's many hissy fits prior to the NIL era was the Ohio State incident where Terelle Pryor and four other Buckeyes traded gear in exchange for free tattoos, and the university was sanctioned. (Yes, it's always been this juvenile.)
Instead of universities — literally created to educate and prepare people for the future — working together to create a safe NIL system for student-athletes, they did next to nothing and opened up the floodgates. There are very few rules, and a lot of them vary from state to state. Local politicians seized on the opportunity to help out their alma maters, or the alma maters of their base, and are in a continued frenzy to make it as easy as possible to funnel money to players at those schools.
That's created out-of-whack pay scales, lopsided rules, and a ton of other headaches that college coaches are mad about. This is in no way the fault of an unpaid workforce responding to this chaos by acting capitalistically. While there are kids who have been greedy, they're not profiting off an unpaid workforce. The NCAA and its members are — and they're disgusting, shameful gluttons trying to keep the illusion of amateurism alive at, perhaps, the cost of their own existence.
So, yeah, we're basically at the same juncture with revenue sharing as we were with NIL money five to 10 years ago, and the more realistic the NCAA and its members are, the better the system will be. If they come to the table, they have an honest discussion about which sports generate money and help facilitate the process.
Moving the conversation, and the sport, forward
Not unlike other areas of progress, the powers that be are amenable only to a point, and once they feel that grip slipping, it's a mad rush to wrest back control, or at least offset the newfound freedom.
That's how we get coaches lobbying Washington for NIL regulations, and bills like the Protecting Athletes, Schools, and Sports Act that proposes "fixes" to the system while also outlawing future revenue sharing. (NCAA prez Baker voiced his support for this bill.) Yes, coaches are annoyed, but the ire seems to be more about the upheaval created by the transfer portal — also a target of the PASS Act — than players getting paid.
Just this week, Michigan coach Jim Harbaugh sounded off again on the need for revenue sharing, and judging by Griffin and Stahl's opinions on college football players specifically, it's not a matter of if players get a piece, but rather preparing for that eventuality.
"I look at (revenue sharing) the same that people looked at NIL. When I got to school in 2019 there were very small rumblings about it — I'd honestly say revenue share has more traction now, media-wise, than NIL had in 2018, 2019," Griffin said. "In 2021, NIL was in full effect, and I think revenue sharing is going to have the same type of trend."
If Griffin's optimism is accurate — he said there would be a model in place in "three to five years" — then the NCAA, schools, and everyone else involved better use their time wisely to create a sustainable infrastructure so it's not another NIL situation where the rules are made up as if it was a game of Calvin Ball (aka at random, and seemingly only to benefit the creator of the rules).
"The administrators who run the show are trapped in that past mindset," Stahl said. "They are just seemingly, utterly incapable of getting rid of this sort of paternalistic idea that they have around college athletes, and trying to plan for a future that is staring them right in the face."
The endgame looks a lot more like a professional sports league than any kind of past amateurism, and the way forward could be carved through real, concrete fixes to the NIL system via a players union, or another entity with the ability to negotiate on behalf of the players.
The need for organization and representation
One of the biggest factors contributing to this NIL chaos, according to sports agent Leigh Steinberg, is the lack of oversight of marketing agents, who a lot of times are sports agents, as well, but do not have to be in order to do NIL business.
"A very protective cocoon for an athlete approaching agent selection just isn't there for marketing agents," Steinberg said.
"Heavy regulation already exists for agents, and the contract that a draftee signs with the agent has been constructed by a players association for the protection of a player. What you need is something similar."
There is no current regulatory body for marketing agents, which attracts bad actors, because when an agent violates a rule set in place by the NFLPA, it can bar that person from representing the athlete when he gets to the pros. There's currently nothing like that for college or high school athletes. It's almost as if there's a blueprint for this stuff.
If a governing body for marketing agents were to come along, it could create a certification process to conduct NIL deals and negotiate on behalf of both individuals and groups. Who fills this void, Steinberg isn't sure, but he said one is needed for the young group of athletes, and should be applied to NIL.
The CFBPA could become one such governing entity. After a failed attempt to start a chapter at Penn State a couple years ago, Stahl said they're targeting big universities and hoping one bites as early as 2024, because he believes people, including stakeholders, are "over the NCAA."
The goal of the CFBPA is to realistically negotiate on behalf of the players, with one possible focus being the new EA Sports College Football game coming back next year. That deal — a one-time payment of $500 — was negotiated without athletes and, predictably, does not include a portion of the profits.
"I'm happy that guys and gals are making money for the first time … but it's a fraction of what they should be getting given the billions that are generated from their labor," Stahl said. "I think they need to be empowered even more.
"This can't be the first group licensing deal in sports marketing history that does not include royalties. It just doesn't make sense, but that's where we're at."
He said athletes should be focused on passive income, like jersey sales or video game deals, where they don't have to perform additional duties on top of their heavy course and athletic workload. Stahl believes that not only administrators, but also more athletes need to start thinking of themselves as "fully autonomous" adults, and beyond a few checks from brand deals or collectives.
NIL success is only the beginning
One athlete who is operating like a full-on small business is Griffin, who more or less spoiled the CFBPA's stance on the video game deal days before the organization's campaign launched, despite neither being associated with the other. He was named Male Athlete of the Year at the 2022 INFLCR NIL Summit, is self-represented, and has taken advantage of the NIL system as well as anyone — turning his brand into a business.
Griffin, who spent the last few years at UCLA behind Dorian Thompson-Robinson, is planning for a career in public service and philanthropy. That said, the skills he's picked up through his NIL dealings have given him real-world experience for his life after college.
"I've taken a lot of deals with top companies from start to finish, and delivered on [key performance indicators] for these companies, and that's a skillset that'll be with me forever," Griffin said. "I'll always be able to create value."
The experience is tangible for athletes, preparing them for the pros, should that be their destiny, or normal life, according to the Santa Monica native.
"Now with NIL, we have practice paying taxes, we have practice budgeting, we have practice setting up an LLC, setting up an account to be paid in to hold your money, to save your money, and to invest it," Griffin said. "And so with NIL, I think it puts us on a level playing field with everyone else who is getting a true cumulative education in college."
(As for the transfer portal, the 22-year-old senior said it's affording players the same opportunities as coaches who leave a school for a better opportunity to reach their football goal, or students who transfer for academic reasons.)
While there are certainly a lot of positives coming from NIL deals, neither Griffin nor Stahl thinks this current iteration is sustainable. For now, it'll have to do, and both agreed that any changes to the system should come with the input of the players. (I know that seems like it goes without saying, but this is the NCAA we're talking about.)
The thing is, neither seemed particularly interested in discussing the perks of NIL money, giving off a vibe of a parent trying to get their 2-year-old to stop playing with the slinky for a second and look at the brand-new playhouse in the backyard. As foreign as it is for casual fans to see student-athletes get paid legally, it's an incredibly myopic allowance, and discussing it — or who's at fault for the state of college football — neglects the more pressing matter: Future revenue sharing with the players.