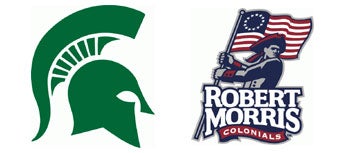 Midwest Region: No. 2 Michigan State (26-6) vs. No. 15 Robert Morris (24-10)
When: Friday, 9:50 p.m., EDT
Where: Hubert H. Humphrey Metrodome, Minneapolis, Minnesota

MICHIGAN STATE SPARTANS

1) Man dates This March marks the 30th anniversary of Michigan State's first national championship, their legendary 1979 win over Indiana State. On the 20th anniversary, in 1999, State reached the Final Four for the first time since that title, starting a run of three straight that included their second national championship. (In 1989, they made the NIT's final four.) This is the twelfth consecutive tournament bid for the Spartans, but only the second time in their history that the school has been seeded No. 2. The previous time was ... 1979. Is your mind blown?
2) Midwest is the best When Michigan State won its last title in 2000, they won the Midwest Regional Final in Detroit (Auburn Hills, if want to get technical about it) and then won the Final Four in Indianapolis. This year, the Midwest Regional is in Indianapolis (the same place they won their regional in 1979) and the Final Four is in ... Detroit. Did someone open a window because I just got a chill down my spine!!
3) These are not coincidences, people Michigan State has never played Robert Morris and the schools had no common opponents this season. However, Robert Morris almost sounds like Raymar Morgan (just go with it) who is second on the Spartans in both points and rebounds. State is 19-2 when Morgan plays more than 20 minutes, but a bout of mononucleosis kept that from happening for almost a month this season. The leading scorer and rebounder for the Colonials is Jeremy Chappell. The sixth-leading scorer on the 2000 championship team was ... Duke transfer Mike Chappell! Somebody hold me, because this is getting scary!!! — Dashiell
1) Who Is Robert Morris? The original Robert Morris was one of the signers of the Declaration of Independence and the United States Constitution. Robert Morris was also one of the main financiers of the American Revolution, supplying cash, ships, and various other essentials to Washington's army. As far as the educational institution goes, Robert Morris University is located in Moon Township, Pennsylvania, just outside of Pittsburgh. There's an NAIA school called Robert Morris College in Illinois, but there's no connection between the two other than their shared namesake. The nickname for the Robert Morris that's going dancing is the Colonials, and they evolved from a simple dome logo to an oversize version of the Sam Adams logo.
2) What It Took To Get Here. Mike Rice, Jr. took over the head coaching job last year from Mark Schmidt, who left for St. Bonaventure. The son of current Portland Trail Blazers broadcaster and former Duquesne/Youngstown State head coach Mike Rice, Sr., the younger Rice has led the Colonials to 50 wins in just two seasons. The 26-win season (highlighted by an upset win over Boston College and Tony Lee's back-to-back triple doubles) last year was mired by a loss to eventual Northeast Conference champion Mount St. Mary's in the conference tournament semifinal and ended with a near upset of Syracuse in the NIT. Minus two 1,000 point scorers in AJ Jackson and Tony Lee, the Colonials were picked to finish third in the NEC this year. They struggled through the first half of the year before going 9-0 in January and 17-3 in 2009. The final? A rematch versus Mount St. Mary's (also, by the way, their hated rival; think of it like a mini version of Pitt and WVU), that was a 48-46 defensive slugfest capped by Dallas Green's bizarro world game winning shot.
3) The Chappell Show: Dallas Green will be the one immortalized in every March Madness highlight clip because of his winning shot, but Jeremy Chappell is driving force behind the goodship Colonial. A four year starter, Chappell was lightly recruited out of Cincinnati but made himself into the NEC Rookie of the Year as a freshman under Mark Schmidt. Tony Lee earned himself national recognition with his back-to-back triple doubles last year, but Chappell is more athletic and will likely go down as the best player in Robert Morris history. In fact, he is the only player in Northeast Conference history with 1,500 points, 500 rebounds, 250 assists, 250 steals, and 200 three-pointers. Yes, fans chant "Chappell Show" after significant plays. No, he looks nothing like Crazy Dave. Yes, the Colonials now have two "television" shows in their starting lineup: The Chappell Show and Rob "Swiss Family" Robinson. Yeah...the last one needs work. But if the Colonials were to shock the world and upset Michigan State, Robinson and Chappell would be the ones to do it. — Andrew Chiappazzi (Colonial's Corner)
Join the Deadspin Pants Party Group Pool [ESPN]
Download the Deadspin Bracket [PDF or JPG]