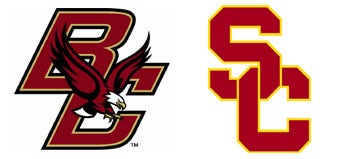 Midwest Region: No. 7 Boston College (22-11) vs. No. 10 USC (21-12)
When: Friday, 7:20 p.m., EDT
Where: Hubert H. Humphrey Metrodome, Minneapolis, Minnesota

BOSTON COLLEGE EAGLES

1) The Rice Man Cometh When Tyrese Rice debuted on the Heights four years ago he made Jamal Crawford look like a guy who was bashful when it came to looking for his shot. Precocious bordering on irresponsible, Rice seemed to have little use for teammates. Or the shot clock. He was scorer. And he was darn good at it, having broken J.J. Redick's Virginia record for most three-point field goals made during a high school career. Which was seemingly the biggest problem he faced as far as fitting into head coach Al Skinner's button-down offense. But then a strange thing happened on the way to the D-League. Rice matured. He watched the way that upper classmen Jared Dudley, Sean Marshall and Craig Smith went about their business. He saw the measured way that Louis Hinnant ran the point and trusted in the offensive philosophy. During the next two seasons, Rice rose through the ranks from sniper to floor general. Slowly and surely he learned to harness his talents. He became the heart and conscience of the Eagles. He was named to the All-ACC first team during his junior season with an average of 21 points per game while playing with a supporting cast composed largely of freshman. He averaged more than 38 minutes per contest during the 2007-08 campaign and hung 46 on UNC in one of the great single-game performances of the season. A year later, he still has the ability to take over each game he plays but he no longer tries to take over every possession. Rice-who plays with the same ebullient aggression that made Iverson so entrancing at Georgetown-may have seen his scoring dip slightly this year (17.1) but his assists, and rebounds are up. And, most importantly, his team is better. Rice led the Eagles to a win @ No. 1 UNC and over No. 6 Duke (the first time in school history that BC dropped both teams in one year). He's the guy on the roster with the ability to take over any game and the potential to be one of this tourney's marquee names.
2) Flexing The BC hoops program blossomed (read: stopped being irrelevant after a few woeful seasons) during head coach Al Skinner's fourth year at the helm. The resurrection began while the school was still a member of the Big East. Back in the days of yore, when men were men and bruises were held in equal esteem to banners, Skinner instituted a deliberate "flex" offense that packs players around the painted area. It's all elbows, knees, hips, shoulders and bounce passes. Skinner brought this offense with him to the prim and proper environs of the ACC. It's physical and intricate (critics say "predictable") and creates a lot of contact amongst opposing players. The offense is predicated on a continuous sequence of precise screens and cuts. Every player needs to be able to execute a bounce pass in a tight spot and players needs to be able to score in the paint when one of the screens frees them up. It requires constant motion and can be maddening to defend as the shot clock wears on. Skinner's variation on this scheme condenses the court as much as possible (unlike Terps coach Gary Williams who uses a more expansive flex that focuses more on the deep shot) and aims for easy buckets. The success of the offense is predicated on timing and five players using one mind. And that mind belongs to Skinner. When the meticulous passing in tight quarters is supplemented by timely three-point shooting it is very difficult to stop. The Eagles can shorten games and limit the possessions of more explosive opponents. On the flip side, the deliberate pace of their game makes them very vulnerable to teams with a high degree of "spurtability." This is not an offense built for quick comebacks (although Tyrese Rice has the freedom to freelance in those instances). Rather it relentlessly chips away, wearing down the will of weaker teams and keeping BC within striking distance of better ones.
3) Diamonds in the Rough If Al Skinner had been running the local AAU squad in Agrabah back in the day then he surely would have scouted Aladdin before Jafar ever caught his scent. The sort of agility that he showed in the marketplace during that early musical number would have surely helped Skinner unearth this diamond in the rough. Skinner's ability to find the underscouted high school hoopsters and to convince them to travel to Chestnut Hill has enabled a school with high academic standards and little cache amongst the ABCD set to compete with the blue bloods. The refurbishing of the BC basketball program began with Troy Bell. He was a lithe and lightly recruited guard from Minnesota. Upon graduating from high school in 1999, he was neglected by the University of Minnesota even though he had been a finalist for the North Star State's Mr. Basketball honor. He was offered a scholarship by Xavier and by Tennessee (although the UT coach opted not to even be on campus for his visit) but the only coach pushing hard for him was Skinner. The rest, as they say, is history. Bell averaged 18.8 points per game as a freshman. And never looked back. He was named Big East Player of Year two times (joining Patrick Ewing, Chris Mullin, Troy Murphy and Richard Hamilton as the only players to accomplish this feat). Bell posted careers numbers of 21.6 points per, 4.0 boards per and set a Big East record his senior season by averaging 27 points per game in conference play. After finding Bell in the wilds of Minneapolis, Skinner lighted out to the West Coast, where he found unheralded players Craig Smith (who he got into a prep school in Worcester, M.A. to get his grades up and his weight down) and Jared Dudley (who had heard only from Creighton during his senior year in high school before a Vegas showcase got him some more attention). Both players, who couldn't get the time of day from Pac-10 schools, are currently in the NBA after decorated collegiate careers. The current BC squad is stocked with such undervalued overachievers, from gunner-turned-superstar Tyrese Rice to sophomores Biko Paris, Corey Raji and Rakim Sanders, transfer (from Vermont) Joe Trapani and standout freshman Reggie Jackson. — Hermes Vandeweghe (What Would Oakley Do?)
SOUTHERN CALIFORNIA TROJANS
1) Hold The Mayo Last year, everyone in Los Angeles was talking about the two one-and-done freshman phenoms, Kevin Love of UCLA and, more to the point, OJ Mayo of the USC Trojans. You had to be deaf, dumb and blind not to know that Mayo was destined for the NBA after his one year in NCAA purgatory. Fast-forward a year later and flying under the radar is highly-touted five-star recruit DeMar DeRozan. DeRozan (who came in a package recruiting deal with Percy "Lil Romeo" Miller) started off his freshman campaign somewhat slowly and did not come close to the prolific numbers Mayo put up as a freshman. For the season DeRozan averaged 13.6 ppg and 5.7 rpg, while shooting 52.5 percent from the field. As of late DeRozan has started to peak at the proverbial "right time" and stands poised to help the Trojans make noise at the "big dance." It's been a wild week for DeRozan, who just before the Pac-10 Tournament was named to the All-Pac-10 Freshman Team. Call the Pac-10 Tournament "the awakening" for DeRozan; he mowed down the competition by shooting at a high percentage (57.5 percent) and averaging 21 ppg, an astounding 9 rpg, as well as 2.3 apg for the Trojans during Tournament play. His performance earned him the Most Outstanding Player of the Tournament award. DeRozan now looks to continue his hot play and lead the 10th-seeded USC Trojans over a 7th-seeded Boston College team in upset fashion.
2) Somebody Give Tim Floyd A Hug A lot of noise has been made over the course of the season regarding whether or not Tim Floyd is the right man for the USC job. Well, a hop, skip, and a jump later and what do you know, Floyd has silenced his critics, having put together three consecutive 20-win seasons (with winning the Pac-10 Tournament as his exclamation point). His play-calling has been questioned, his rotations lambasted and he was once referred to as "a pretty good college coach but with the backbone of licorice," by everyone's favorite playmate-ogling PTI host, Michael Wilbon. All Tim Floyd has done is to continue to muzzle his detractors, going about his business and changing the perception of USC men's basketball. Similar to how Rick Neuheisel must feel when he is compared against a certain cross-town rival, it's not an easy thing for a coach when his next door neighbor just made it to three-consecutive Final-Four appearances. However, Floyd is doing and saying all the right things and now, with a healthy rotation, he stands at the brink of bigger and better opportunities.
3) It's A "Team-building" Exercise Earlier in the season, following a 60-51 loss at home to the (then ranked 22nd) Washington Huskies, Dwight Lewis and Daniel Hackett decided to treat some of the kids in the student section to a seminar on conflict resolution. After registering a lackluster performance against the Huskies, Hackett decided to get a little testy with some of the students in attendance as he was leaving the court. Lewis then jumped in the middle of the exchange, in an attempt to defend the students, and moments later he and Hackett began to shove one-another. Even though the two would later downplay the incident, this ugly moment in Trojans' sports history seemed to mark an apparent downfall of the men's basketball team after a solid start to the season. However, while they would lose their next two games (against Cal and Stanford), the incident seemed create a sense of urgency and light a fire under the Men of Troy who would go on to sweep both Oregon schools and run the table in Pac-10 Tournament, getting an automatic bid to the "big dance." — Neal Leitereg
Join the Deadspin Pants Party Group Pool [ESPN]
Download the Deadspin Bracket [PDF or JPG]