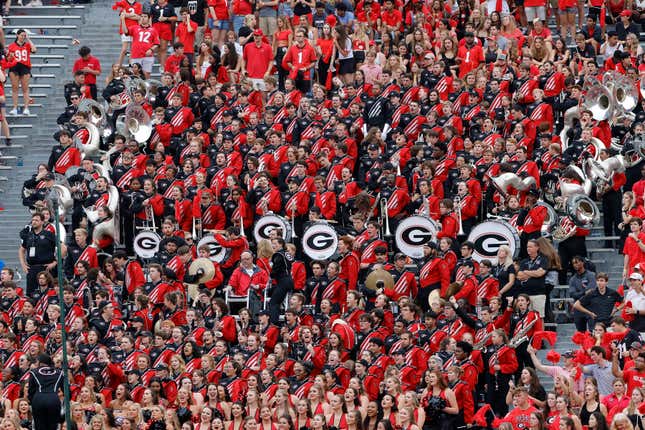 Anyone who's ever been to Las Vegas will tell you two nights is the perfect length for a trip, and proceed with caution after the 48-hour mark, or you'll risk going full James Harden and slapping your buddy outside the club. Three days on the strip is excessive even for the most degenerate of addicts, and at some point, the partying stops being fun because the slots, casino lights, and alcohol beat you into submission to the point that you tap out voluntarily. We'll see how the expanded College Football Playoff feels after its inaugural run-through in 2024-25, but I'm getting strong too-many-days in Vegas vibes.
Top 5 football movies of the past 30 years
The dates were released, and the first round is set for the Friday and Saturday before Christmas (Dec. 19 and 20). The quarterfinals are the New Year's Eve and Day games — a Tuesday and Wednesday. The semis are Jan. 9 and 10, a Thursday, and Friday, before the title game caps the season Jan. 20, which is a Monday, and also Martin Luther King Day.
The semifinals are being played on a Thursday and Friday presumably because the NCAA doesn't want to compete with NFL Wild Card Weekend. That means the second weekend in January will be a five-day stretch of do-or-die contests because remember the NFL postseason expanded to Monday night.
Yes, the games will matter, so fans will watch, and outlets will cover them as such, yet has Thursday Night Football's lukewarm reception taught us nothing? I'll be interested to see at what point the novelty wears off because I have a sneaking suspicion that the casual viewer will be less likely to sit through blowouts (and those CFP games will feature blowouts).
Will viewership taper off, or will sports fans treat the first round like they do 76ers-Nets playoff games on NBA TV? Maybe it will be a month-long ratings behemoth — for network partners and fans alike — right in the middle of the holidays, at the tail end of bowl season, and up against the start of NFL playoffs.
I hope you're dedicated to those resolutions because they're going to get tested with wings, beers, and games three to five times a week for the first month of 2025.
A disregard for moderation
I'm sure that amount of football, drinking, and Christmas cookies sounds great to people in their 20s, yet that's a sizable ask for people with family obligations, or just a girlfriend who wants to watch literally anything else. One college football columnist called the smorgasbord a "never-before-experienced football-viewing nirvana," and something tells me Dan Wetzel has never done 72 hours in Sin City.
Here's another parallel: You know when 15 of your shows are all running simultaneously, and it's more TV than you can watch on a night-to-night basis? The typical response is to commit to your favorites, and then binge all the secondary programming when you get around to it.
Well, that's not really possible for live sports unless you record them and have the conviction to avoid checking social media or ESPN until you can watch, and I think lopsided CFP games will be first up on the chopping block.
I'm also interested to see how well fans travel to all these neutral sites. The first round will be played on campus, so that's good. However, the rest of the slate likely requires a plane ride and accommodations on top of game tickets. Do the morons over at the NCAA league office not know that a lot of vacation budgets and days are already allocated for the holidays? That amount of travel isn't realistic financially, or even relaxing for the people who can afford it. Wetzel at least acknowledged that his football euphoria really only applies to those watching on from home.
Complain about NIL deals and the transfer portal fomenting a Wild West culture in collegiate sports all you want, but stop acting like players, and programs are the only ones doing the looting. It's a free-for-all, and every faction of the system — including the NCAA and Big Conference — is taking whatever they can carry.
Fans are stuck with a bloated product, and an untenable schedule that's only redeemable quality is its quantity. I don't know how many more ways and analogies I can present to communicate that less is more, so in the spirit of knowing when to call it, I'll do just that.