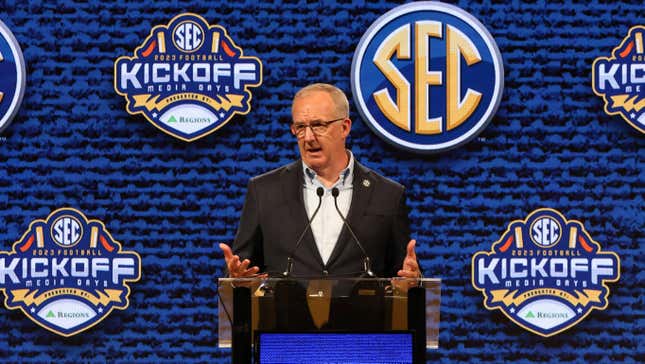 There's a problem facing college athletics that cannot be solved by the NCAA, the courts, the states, or the conferences. This immoral predicament of the greatest consequence — unregulated name, image, and likeness money — can only be solved by Congressional oversight, according to SEC commissioner Greg Sankey.
Was the punishment of Tennessee Volunteers football harsh enough? | Agree to Disagree
The conference is holding its football media days this week, and Sankey gave his State of the Union address Monday, focusing primarily on NIL deals, and their dastardly effect on the game.
"The reality is, only Congress can fully address the challenges facing college athletics," he said (via ESPN). "The NCAA cannot fix all of these issues, the courts cannot resolve all of these issues. The states cannot resolve all of these issues, nor can the conferences. Whether congressional action is achievable is a matter of debate. Much debate."
I'm not sure if Greg has been paying much attention to Washington the past century, but asking them to agree on a solution will be neither swift nor logical. This next quote is my favorite.
"But educational opportunity, supporting equitable opportunities for men and for women, ensuring the United States' continued success in the Olympic Games, providing medical care, nutritional support, academic support, mental wellness counseling," he said, "these are nonpartisan issues that deserve a nonpartisan solution."
Yes, we must regulate NIL deals in the name of the Olympics, nutrition, and equality. Anything that goes in front of Congress will immediately be politicized, and the only reason Sankey is pushing for it is because he's got the support of a super PAC financing his cause. Universities only want rules when they're the ones dictating the terms, and Sankey did a great job of gas-lighting for his side.
He said the future of college sports has to do better than "the need to sort through a full unregulated marketplace, being approached by individuals who present themselves as something that they may not be, where anyone can purchase card stock and run it through a printer and call themselves an agent on a business card."
OK, do you know how you do that? By paying the unpaid workforce directly, and eschewing the slush funds. The reason kids resort to unscrupulous means to get paid is because schools' unwillingness to share drove them there.
Sankey added that the players he's spoken with want NIL standards, and also don't want to be employees of a conference or school. Sure, Greg, whatever you say. (Pay attention to the language because not wanting to be an employee is not the same as not wanting compensation).
It's always fun to see conference commissioners warbling like an exasperated parent during a heated PTA meeting. Yes, somebody should do something about these out-of-control TikTok-ers, dancing and laughing in the streets. Government regulation isn't just the best solution, it's the only solution.
Speaking of regulation…
Did you know that the NCAA lifted its scholarship cap for the 2022-23 and 2023-24 academic years? The normal cap on scholarships that football programs can give out each year is 25, but a couple of years back, that number was boosted to 32 in order for universities to hit the 85 scholarships they're allotted.
That change was made in response to COVID and the burgeoning transfer portal movement, and it worked so well that the NCAA just said fuck it, for the next two years, sign as many newcomers as you want as long as you don't go over 85.
Sounds like a solid thought process, right? Well, now bigger programs can sign massive classes to hoard talent. It also makes turnover easier in case a new coach wants to overhaul his roster, kind of like what happened in Boulder, where 52 players entered the transfer portal shortly after the arrival of new hire Deion Sanders.
Coach Prime also has used another exception, the "Aid After Departure of Head Coach" bylaw, that allows first-year coaches to not invite players back but keep their academic scholarship as long as they stop playing and continue with their studies. The player then wouldn't count against the program's total.
It's basically like being cut, but with the caveat that the player gets to stay on campus, and attend classes with his former teammates. (What a treat!)
Lincoln Riley "cut" 10 scholarship players before his first season at USC, and that clearly worked out for the Trojans. The Nebraska Cornhuskers currently have 98 players on scholarship, meaning new coach Matt Rhule will likely have to trim 13 guys.
How is that "supporting equitable opportunities"? Will someone please think of the fucking Olympics? Where are all these players going to get proper nutrition now?
College athletics were a shit show before NIL deals and the transfer portal, and it's not surprising dysfunction and chaos only yielded more anarchy. So, yeah, are we sure that NIL deals are what needs regulation?