George Washington Colonials (26-2) vs. UNC Wilmington Seahawks (27-7).
When: Thursday, 7:10 p.m.
Where: Greensboro, N.C.
GEORGE WASHINGTON
1. Either The Team Is Hot Or The League Is Not. GW had two first-team All-Atlantic 10 players (Pops Mensah-Bonsu and J.R. Pinnock), two second-team All-A 10 guys (Mike Hall and Carl Elliott) and the A-10's sixth man of the year (Maureece Rice). So not only did they go undefeated in the A-10 regular season, they also have five of the conference's 11 best players. Plus, Karl Hobbs won Coach of the Year. That's domination.

2. Court-Rushing Fan Videos Are Always Fun to Watch. You may recall GW's buzzer-beating win over Charlotte on Senior Night from earlier this month (Elliot caught Noel Wilmore's 3-point air ball and put it in the bucket a la the Jimmy V. game from '83). What you may not have seen were the videos shot from a fan-on-the-court's perspective (camera one, camera two). Endearing fans chanting "G! Dub!" over and over with players dancing on the scorer's table is sure to bring a smile to your face. They even chant "Mrs. Hobbs!" when coach Hobbs thanks his wife — for what I'm not sure.

3. Omar Williams' Academic Standing Is Strong to Quite Strong. Washington Post writer Mark Schlabach wrote a long story using Williams (a senior forward) as Exhibit A of why the NCAA's academic process is flawed. He illustrates his "shaky academic standing in high school" and invalidates his prep school, using the student to shed the system in an extremely negative light. What the writer fails to mention anywhere in the 3,000-word story, however, is that Williams is currently on the Dean's List at GW. Colonial Hoops goes into greater detail. - Jamie Mottram
UNC WILMINGTON
1. Road Trip! Wilmington, North Carolina — hometown of news anchor David Brinkley and NFL quarterbacks Sonny Jurgensen and Roman Gabriel — is a pleasant little beach town that is also the eastern-most point of Interstate 40. There's a sign at the start of the I-40 that reads Barstow, Calif. 2554. Having Wrightsville Beach just five miles away would be a better recruiting tool if the school had a stronger academic reputation. Legend has it that one enterprising UNCW student earned extra cash for college by running a fully stocked bar out of his dorm room.
G/O Media may get a commission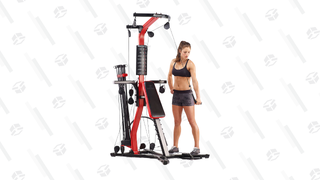 31% Off
Bowflex PR3000 Home Gym
2. Hoosier Myopia. Why is UNC-W head coach Brad Brownell not even being mentioned as a potential head coach at Indiana? He's from Evansville, he played for Royce Waltman at DePauw and he was a grad assistant under Jim Crews at Evansville. In four years at UNCW, he's 82-38, he's been named CAA Coach of the Year twice and he teaches the kind of intelligent, unselfish, defense-oriented basketball that you rarely see in men's hoops anymore. Then again, maybe Brownell, like most Indiana natives, just loves going to the beach.
3. The Teal World. UNCW Seahawks fans love their school colors, especially the teal. It's a bit more green than the bizarre Pantone void of those other Seahawks — who, by the way, have fewer conference titles than UNCW in the last five years — but it's an odd point of pride for the student body. I fully expect to see a bevy of buxom beach babes sporting those "Feel the Teal" T-Shirts during the Big Dance(tm). I hope CBS cameras get their good side. — Dave Warner
Deadspin Printable Bracket (PDF) (JPG version)
Join The Deadspin Pool!
NCAA Tournament First Round Schedule [Deadspin]
Complete Deadspin First Round Matchup Previews [Deadspin]